Club legends honoured as Woolverstone celebrates centenary
Two of championship winning Woolverstone United's legends were honoured as the club marked its centenary with a special presentation evening at Berners Hall last night.
David Hazelwood, who has played, captained, managed, been secretary of the club and is currently the groundsman of the eponymous Marina Road Ground, was made Woolverstone United Life President.
Hazelwood's long service was also marked by the English Football Association with Suffolk FA chairman Phil Lawler presenting him with a 50-year Order of Merit.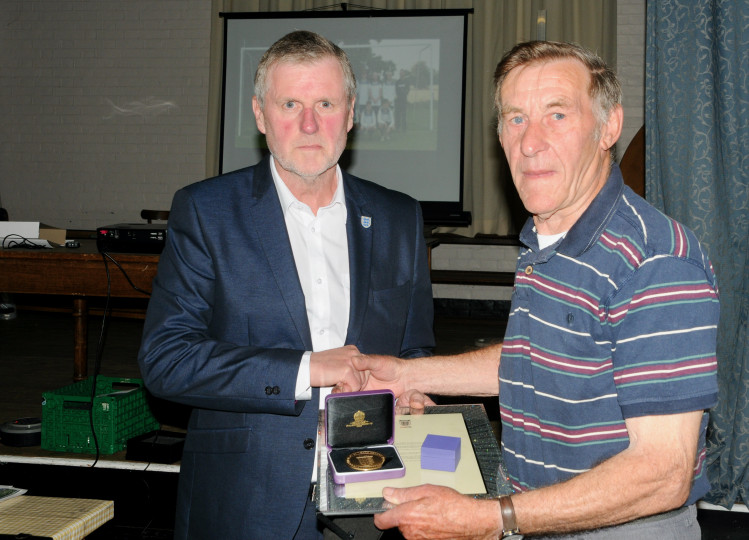 David Hazelwood receives award from Suffolk FA chairman Phil Lawler (Picture credit: Peninsula Nub News)
The evening was hosted by club chairman Craig Catchpole, who played more than 500 games for Woolverstone, and like Dave has undertaken many roles in his 46 years at the club.
His contribution was also rewarded with the FA's Order of Merit certificate and medal. The award is made by the FA in recognition of the dedication and commitment undertaken by volunteers at grassroots level.
Catchpole was also presented with a meritorious award for long service by the Suffolk and Ipswich League chairman Keith Norton.
He was reminded of a red card he got while playing in goal to help out the reserves, and the earful he got from his wife when he got the the sidelines but he and the club were praised for keeping Woolverstone going during tough times, when they could barely scrape a team together.
"I have played all my career here, apart from six months at Tattingstone, even in goal for the reserves to help out
"It has been a wonderful night for the club to be able to mark 100 years like this" said Catchpole. "So many people have pulled together to get the club where we want it to be and we just need to take it on.
"It is fabulous turn out. The club and the village are as close now as it ever has been and if we can carry on building then more people will come and watch."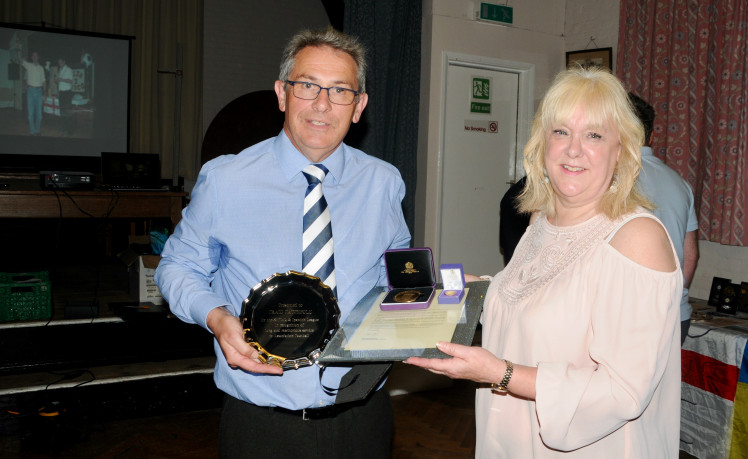 Craig with wife carol and his haul of deserved awards (Picture credit: Peninsula Nub News)
In his speech outlining the history of the football club, started 100 years ago by Major John Berners, Catchpole, spoke of his joy at playing with many top people, with some among the ex-players attending the evening.
Some had taken part in a Woolverstone Reserves v Legends game on Friday night, with the veterans fielding 16 players at one time until they were rumbled, and it ended 1-1 with a bit of a free for all.
A more serious game between the Division Two champions and an SIL representative team, ended in a 4-2 reverse.
Craig added: "I have played with some real good players, like Andy Saunders who scored for fun, a real gentleman who is here. I have played with my boys, this was my dad's club so it is a special place for us all."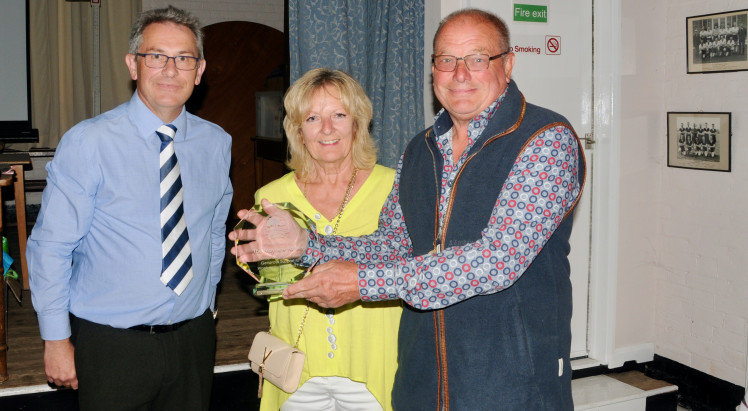 Phil Mayhew and wife presented with special memento (Picture credit: Peninsula Nub News)
Woolverstone's Hazelwoods ground is arguably the most picturesque in Suffolk and the meadow is leased to the club by farmer Phil Mayhew, who was presented with a plaque as a thanks for his long standing support.
After winning promotion as champions to the Macron SIL First Division Woolverstone need to make ground improvements and fund raising has already begun to pay for the work.
Simon Pearce, chairman of Woolverstone parish council presented Carol Catchpole, with a cheque for £1,500 towards their goal estimated at around £8,000 and Craig publicly thanked the council for the £2,200 they had given in grants and handed Mr Pearce with a picture of the successful squad to be hung in Berners hall, to go along with the more historic pictures on display.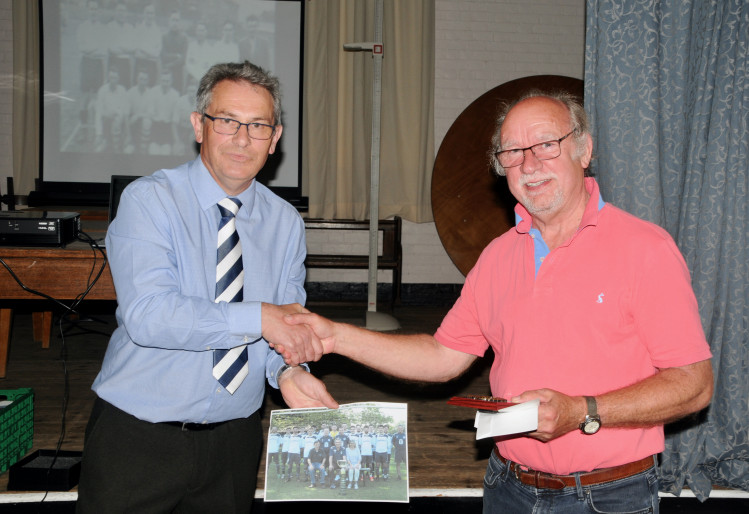 Simon Pearce Woolverstone parish council chairman and Craig Catchpole(Picture credit: Peninsula Nub News)
*Add your club's report and pictures by using the black Nub It button on the home page. It is free and straightforward.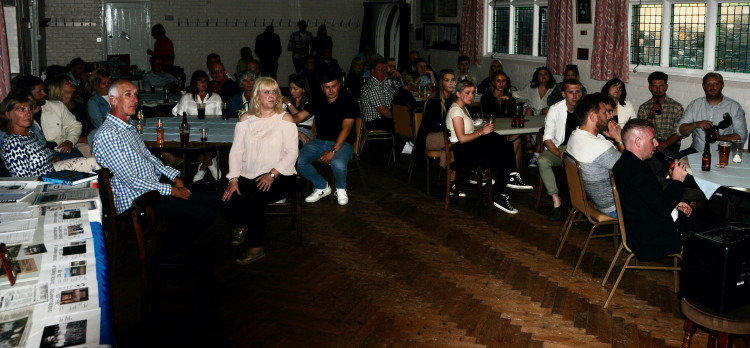 Good crowd at centenary night (Picture credit: Peninsula Nub News)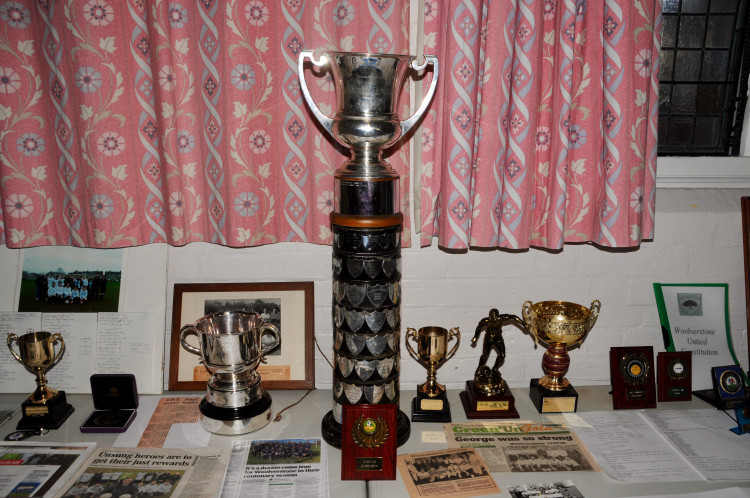 Title trophy (Picture credit: Peninsula Nub News)
Scroll right on top headline image for more pictures.