Up Close with with peninsula potter, Usch Spettigue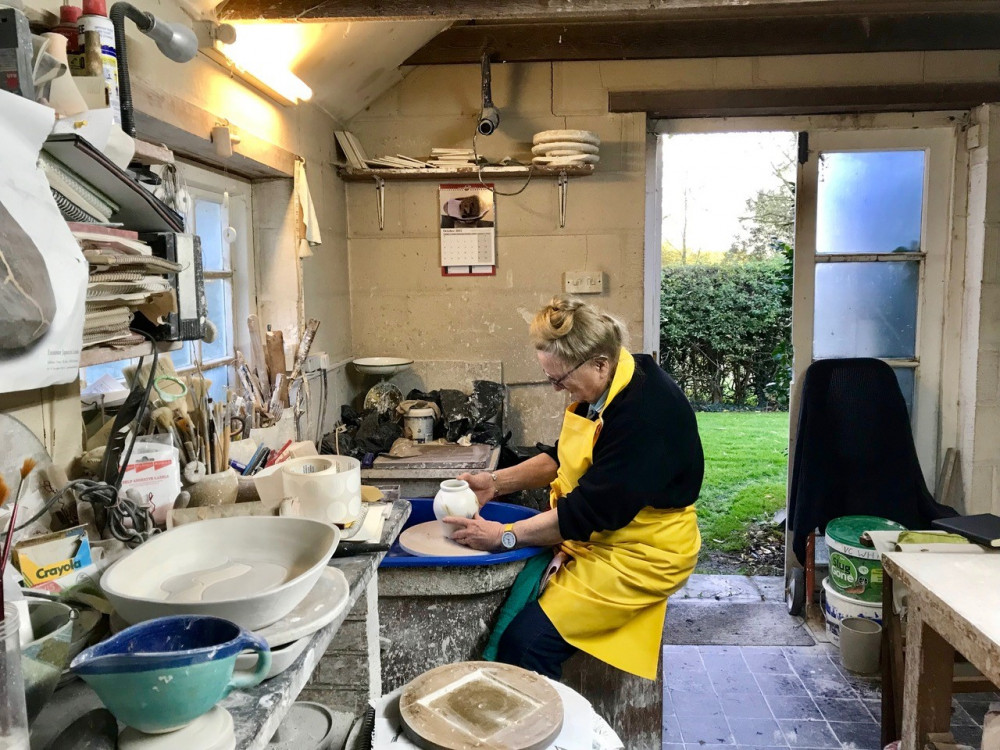 Peninsula potter Usch Spettigue at work (Picture: Sophie Holloway)
Feature writer Sophie Holloway gets Up Close with peninsula potter Usch Spettigue who throws herself into her work and quintessential Suffolk cottage
"I often try not to do pottery, but then I get excited again,"says Usch Spettigue, as she sits on the edge of her wheel in front of me, donned in a bright yellow squeaky apron. Discovering her passion for pottery at Munich University, Usch has spent most of her life since honing this magnificent craft, although as she herself says, "It could always be better".
She stumbled across the pottery workshop on her very first day at university, approaching the potter and asking simply, "Can I have some clay, and will you fire it for me?''. Her classmates soon caught the potting bug, and before long, the kindly craftsman was inundated with requests for more clay and more firing. Generosity, it would seem, is a quality common to all potters.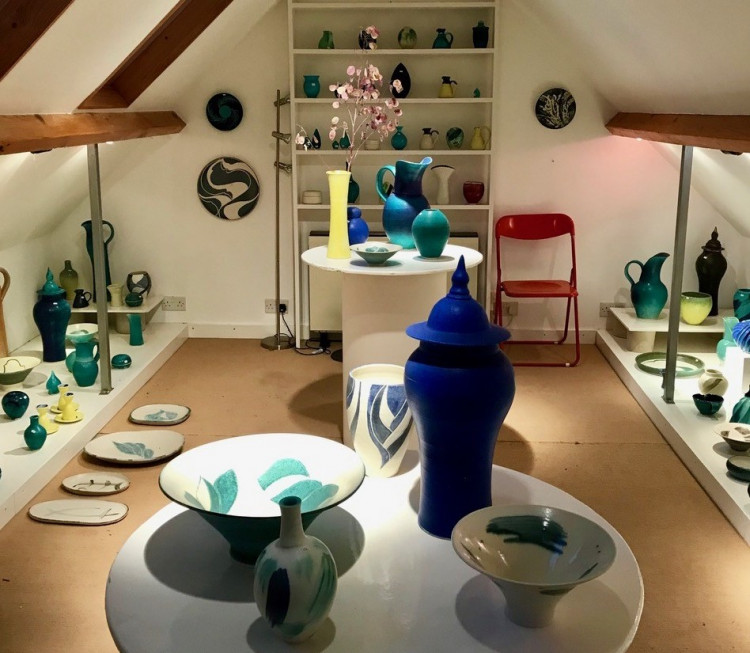 Moving to Harkstead in 1963 with her late husband, William Spettigue, the couple bought what was then a derelict cottage, but what is now a small paradise. The red-brick Victorian cottage is the portrait of homeliness, with its white lintels, rose-trellises and trees that bend and creak under the weight of ripening fruit.
I follow her through the pantry, its work surfaces are scattered with sweet apples. 'Please take some home with you,' says Usch, gesturing towards them as we step out into the garden and meander through the shrubbery towards her studio.
Partly hidden in a lacy corset of brambles, the studio is fairly unassuming from the outside. But inside, it is a creative's haven. Indeed, it is enough to trigger a creative impulse in even the least creative of people. I have in fact visited the studio before, a couple of years ago, where Usch kindly taught me the basics of throwing. My windowsills are now graced with a unique array of pots that clearly are the way they are by mistake, but that nevertheless possess a certain charm.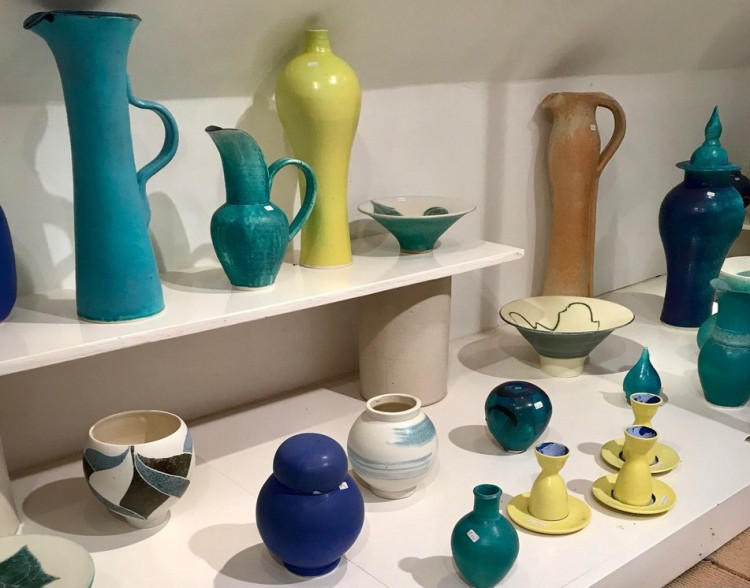 Usch takes a seat at her wheel, and I move into the corner, luxuriating over every perfect interior detail. Articles and scraps of paper flutter in the draught; tins of glaze and paintbrushes stand cheek by jowl on wooden shelves. Elegant pots of all shapes and sizes – some finished, some yet to be – wait for Usch, their fate unknown.
Indeed, the garden is dotted with dozens of abandoned pots. With some nestled in the ivy or by the bean sprouts, they seem far too beautiful to be forgotten. But Usch knows what is good, and what is not, and the sheer number of discarded 'attempts' is testament to her commitment to perfection. 'William would never let me throw them out,' she says, 'So they live here now'.
Usch started throwing later in life, after she moved to Harkstead. Before then, she had only hand-crafted. It was in 1973 at the Civic College in Ipswich (now Suffolk College), where Usch had been teaching German, that she learnt how to throw, that is, shaping the clay using a wheel. She has not once looked back. 'When I learnt how to throw, I knew immediately that this was what I wanted to do.'
After a few years honing her skills at the college, Usch decided to start working independently. She set up a kiln in the garage, which was eventually relocated to the outhouse, to William's great relief, 'He thought I was going to blow up the car!' she says.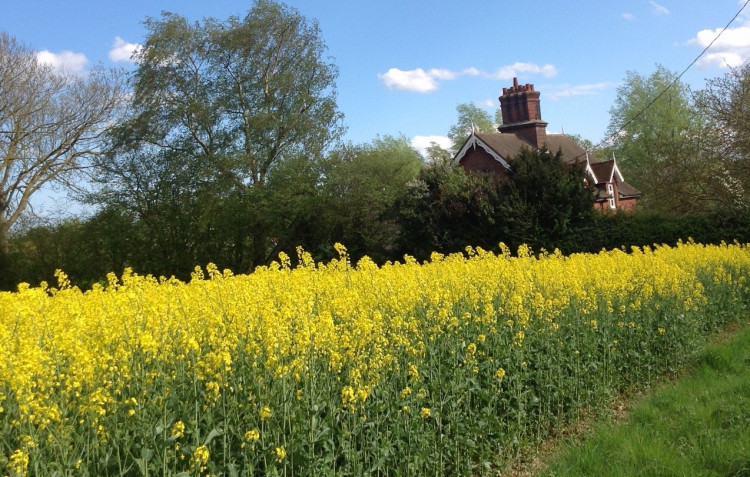 I ask Usch to remind me of the steps involved in throwing. 'First, you knock up the clay and get it to the right consistency. And then, you break it into small pieces and roll these into balls, as evenly as possible,' she says, using her hands to illustrate the process.
"The next thing to do is to put it on the wheel and start centering it. And then, once you have done this, you pull the clay out and up with your thumbs."
I remember struggling especially with this part last time. But the trick is to make body and pot one: to brace oneself against the clay, and to allow the clay to hold you straight. "It is like piano playing – do you play the piano?" Usch asks. I reply that I do, and she says, "Well, like with piano playing, you have to practise."
Next to Usch stands the kiln – a big green monstrous iron cavern. I would be lying if I said it did not frighten me slightly. Usch talks me through the firing process. 'I'm not fond of biscuit-firing', she replies. Biscuit-firing involves putting many pots in all at once, without the glaze. But it makes the process more drawn out, since you have to fire them again after you have applied the glaze. Also, they are not nice to touch – this is the first reason Usch gives me when I ask her why she chooses not to biscuit- fire.
"They feel so horrible", she says with a wince.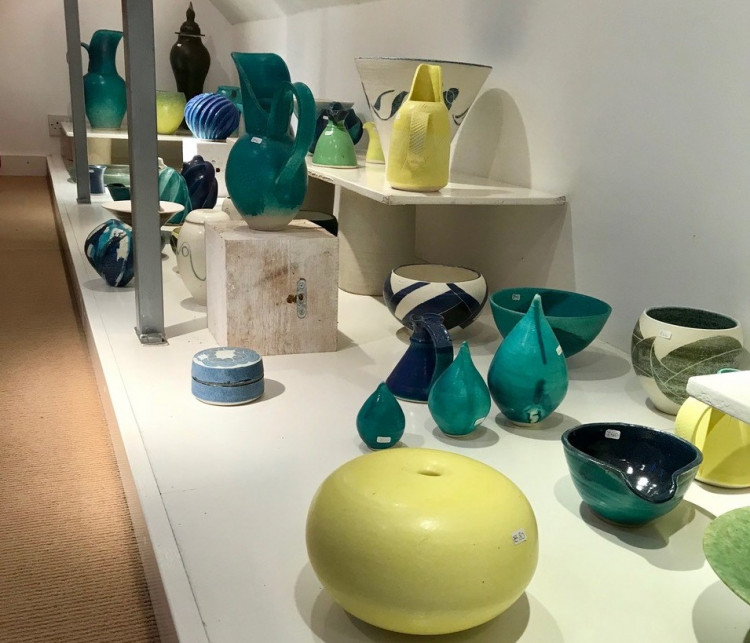 The glazed pots usually go in the kiln for around 16-19 hours. But at a gradated heat. The maximum temperature she sets the kiln to is 1240 degrees Celsius.
Usch certainly has a style. But when I ask her about it, I find that it is something almost mysterious to her. Describing her own style as organic and emergent, Usch claims she has no vision as such when she sits down to make a pot and her influences are somewhat subliminal. 'It simply develops all by itself. By doing it, you find that something looks better if it is wider or taller. I don't design anything deliberately.'
Whilst she follows no particular tradition, her criteria are clear. "I prefer functional," says Usch. "And I am not keen on pretty, colour is more important to me."
I ask her, perhaps foolishly, whether she has a favourite pot. Usch looks up at the ceiling and says nothing for a moment, then replies: "Every time I put a pot in the kiln, it is very exciting. You think you have put in something that is just right. But then later, you take it out and realise it could be better."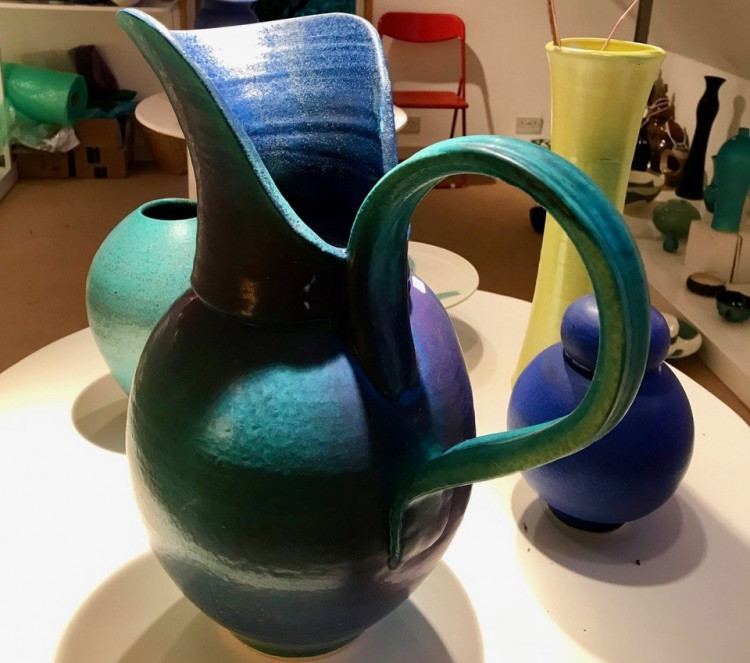 I then ask Usch about the resources she uses, and I am reminded once again of the bond between potters. Aside from reading many books and using the internet, the most valuable resource, it would seem, is other potters. Usch claims that it is always best to speak with fellow potters about recipes. Glaze-making, for example, is more often than not a process of trial and error, and so speaking with other potters about their experiments and exchanging results and ideas is the best way to progress in the craft.
Lastly, I ask her about the clay deposits in our local area. On walks along the Stour, I often find myself clawing at the ash-blue mounds of clay you can find at low tide and taking little bits home with me to shape and sculpt later. Usch explains that whilst it is possible to create pots out of earthenware, it has a tendency to crack easily and lacks structural integrity.
'It could always be better' is the belief that appears to motivate Usch. Although she tries to make less pottery as she gets older, it does not take much for her to find a new project. She says, "I have not retired, but nearly."
I have a feeling that it will always be a case of 'but nearly' with Usch – she and her craft are but two sides of the same coin.
In the summer months, Usch organises home exhibitions. Some of her work is displayed across East Anglia, including Aldeburgh and Norwich.
Five days a skipper by Sophie Holloway
Visiting Shotley Vineyard by Sophie Holloway
Sophie's Website: mercurysfootsteps.wordpress.com