Manager hails battling Brantham under 18s despite crashing out of FA Youth Cup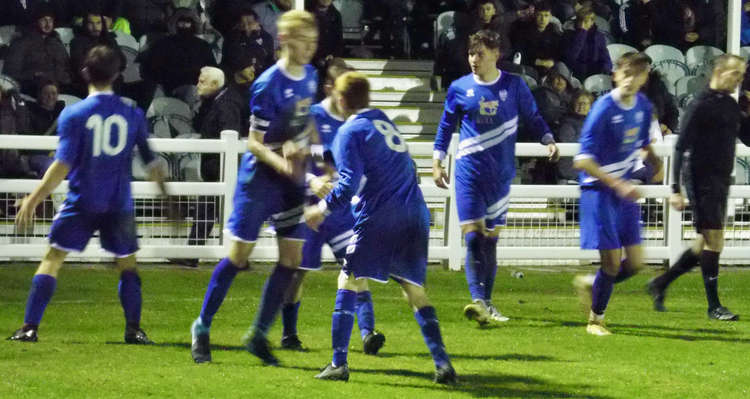 Goal scorer Aiden Carpenter (10) celebrates Brantham's second goal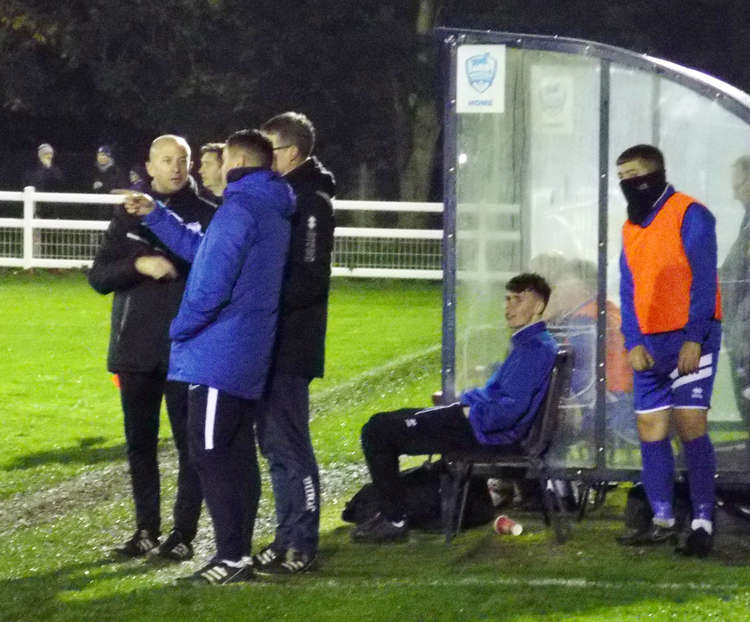 Imps under 18s manager Dan Hart deep in discussions with coaches Gary Pratt and Steve Nightingale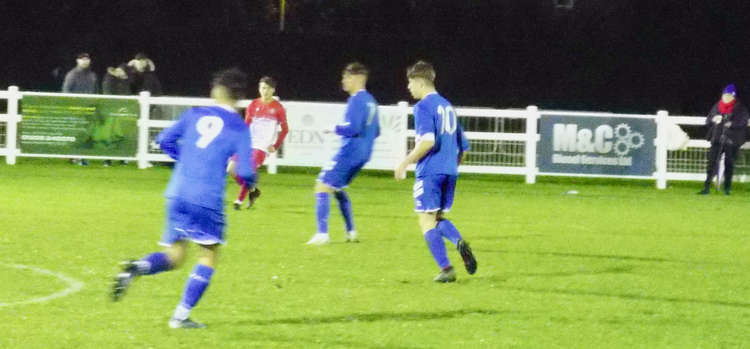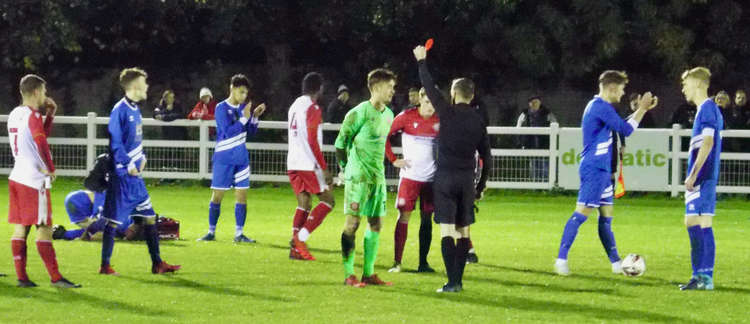 Stevenage keeper Alex Aitken sees red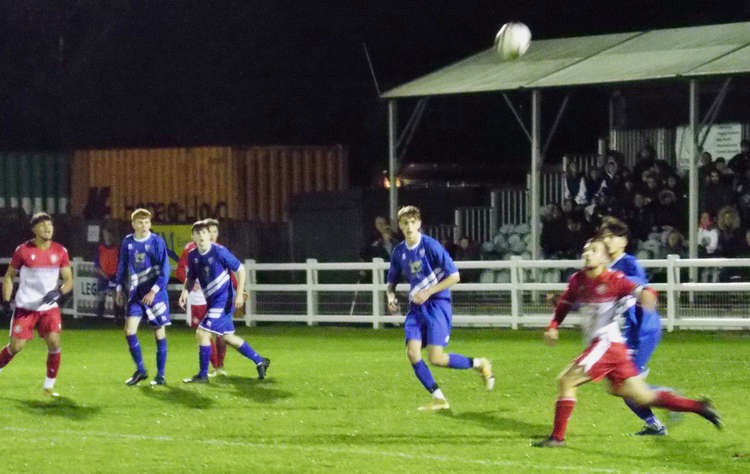 Brantham back line organised
Brantham youth manager Dan Hart hailed his young side despite a 4-2 FA Youth Cup defeat by Stevenage FC, last night.
Nearly 300 fans watched as Brantham under-18 competed in a historic tie watched by nearly 300 fans at the Leisure Centre ground, as they reached the first round proper of the competition for the first time in the club's history.
The young Imps went ahead after just five minutes when Ben Pratt calmly finished after an exquisite ball played in by Tommy Lawson and a good finish by Aiden Carpenter from an Alex Long cross thrilled a good home crowd.
A stunning long range equaliser by Max Bustamante and a hat-trick by Finlay Johnson, son of for Everton and Crystal Palace star Andrew Johnson, gave the full time Stevenage academy team victory over the village side.
Despite the gulf, with Stevenage's Youth Alliance sides first team playing in the English Football League, while Athletics's senior side are in the Thurlow Nunn Premier League, Brantham gave good account of themselves for the most part.
Certainly, manager Dan Hart was pragmatic in defeat and praised his side for their tenacity.
"They are great bunch and like me they are very sore losers, so they are naturally very disappointed," said Hart.
"It was a big crowd and the lads have done the village proud by getting this far and playing the way they did against good side.
"It was great night with all the support and I want to thank the club and they support everyone gave our players has been tremendous. I could not be prouder of them.
"It would be nice to see Stevenage go on a few more rounds and it will show how well we have done.
"We now need to find away of picking our lads up before our Suffolk County Cup tie next week, and that is one we can go for."
Despite the early set back Stevenage showed their quality and forced Brantham onto the back foot with the crisp passing and movement physical presence for the rest of the first half.
Brantham got another good break when Boro had keeper Alex Aitken sent off for taking out Carpenter as he bore down on goal, but the visiting side barely broke stride and hot tow goals before the break.
Hart admitted he could have tweaked his side's formation to take advantage of the numerical supremacy earlier but waited until the break.
He said: "We could have changed the formation a bit earlier because they had too much time on the ball.
"First half they dominated after we took the lead and then they got a good goal back and we gave a silly goal away just before half time.
"We changed things around after half-time and it made a difference. For the next 25 minutes we looked like we were going to go on and win it.
"We got an equaliser and that lifted everyone but then we didn't defend a corner very well. That killed us and then they got another pretty quickly. If we had kept it at three we might have been able to push on and get another equaliser.
"You could see they were sharper with their passing and movement off the ball. They were also physically stronger, some of them looked like 25-year-olds, but there was not a lot of difference at times."
Brantham chief executive Darren Smith said: "The club are extremely proud of all the boys and management team for a superb effort and how they represented the club."
The game was also watched by Brantham first team manager Michael Brothers whose side take on Whitton away on Saturday.
Send us your club stories, features or updates by using the black Nub It button on the home page.