Holbrook hockey star plays part as England share spoils with India in World Cup opener
---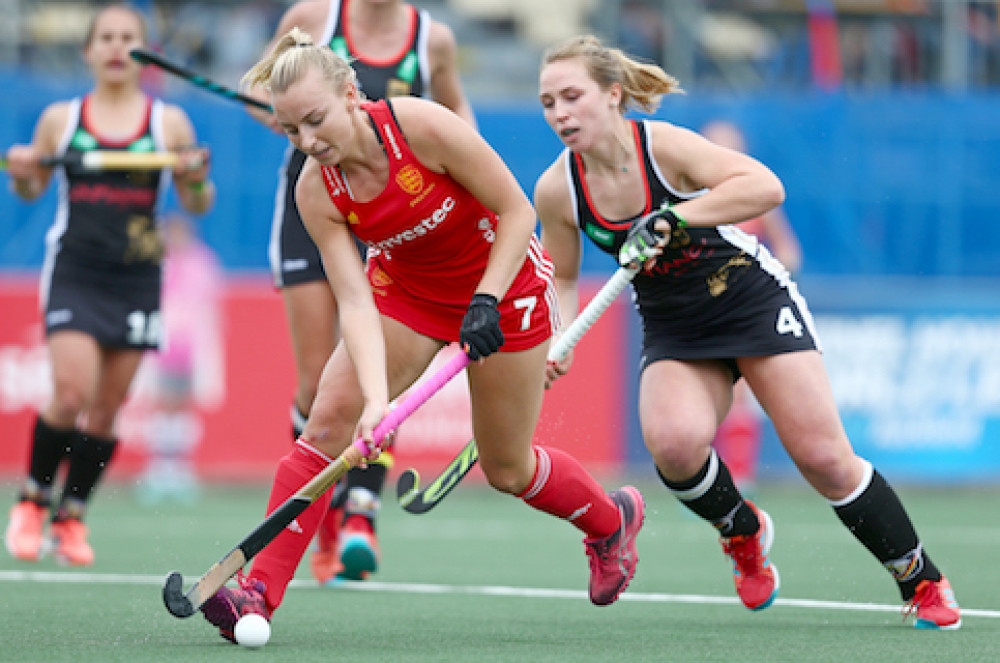 Hannah Martin starred for England (Picture credit: England Hockey)
Holbrook's Hannah Martin played key role as England and India shared a tense 1-1 draw in their Pool B opener at the FIH Hockey Women's World Cup in Amstelveen.
Izzy Petter's super deflecton saw David Ralph's side hit the front on eight minutes and Martin in particular created several further chances.
But India posed a keen threat from penalty corners and levelled terms through Katariya Vandana's flick from a rebound in the dying moments of the second quarter.
Maddie Hinch made three key saves in a cagey second half that meant the two sides start their campaigns with a 1-1 draw, exactly as they did when the showpiece event was held in London four years ago.
England face New Zealand in two days' time in their second Pool B game, before rounding out the first phase against China on Thursday.
Goalscorer Petter, also named Player of the Match, said: "It was always going to be a tough first game, India are a class side. We're happy to get the draw, we would have wanted the win. We'll take the point and it's onto the next one."
Both sides created chances in the early stages of an end-to-end contest, with Hannah Martin drawing an early low save from Savita with a powerful reverse stick shot.
England drew first blood on nine minutes when Lily Owsley picked the ball up in the final third and played in Petter, who steered superbly past Savita.
UP CL0SE with Holbrook's Hannah Martin
They were scrambling seconds later when Gurjit Kaur's drag-flick smacked the right-hand post and Maddie Hinch saved well from the subsequent re-awarded penalty corner.
Ralph's side continued to threaten and more great stickwork from Owsley nearly created a chance for Ellie Rayer and Martin at the back post.
The pattern continued in the second quarter with India's high press making it difficult for England to pass out of defence.
England often found a way to breach that press and Sophie Hamilton's first-time shot from close range drew Savita into a sharp kicker save.
Martin was again at the forefront of English attacks and she fired a reverse stick strike on target that was again comfortably saved.
India levelled terms in the final throes of the first half when Hinch made a fine initial save from a penalty corner only for Katariya Vandana to turn home the rebound.
Hinch was called into action once again in the final minute of the second quarter, repelling a goalbound Kaur drag-flick high to her right .
The rhythm drained out of the contest in the third quarter which was lacking chances and significant forward momentum in either direction.
Tess Howard - on her major tournament return from long-term injury - came closest for England when she narrowly failed with a diving deflection, set up by another positive run and pass by Owsley.
After 15 minutes spent spectating, Hinch was brought back into action and made a flying save low to her left from Neha's reverse stick strike.
England sparked into life five minutes into the final quarter when Laura Unsworth, appearing at her fourth World Cup, flashed a cross-shot across the face of goal which Petter couldn't quite finish.
Both Navjot Kaur and Gurjit Kaur were green-carded in the latter stages and while England had the better of the open play, were unable to capitalise on their numerical advantage.
They were given a late let-off when India breached the England defence, only for the ball to hit Devi Shamila's foot with the goal gaping.
Martin launched a late charge when she burst into the circle and saw her reverse stick strike from a tight angle repelled by Savita.
England: Maddie Hinch, Laura Unsworth, Anna Toman, Hannah Martin, Ellie Rayer, Isabelle Petter, Giselle Ansley, Hollie Pearne-Webb (c), Fiona Crackles, Sophie Hamilton, Lily Owsley
Subs (used): Darcy Bourne, Holly Hunt, Tessa Howard, Shona McCallin, Grace Balsdon, Lily Walker
Sub (unused): Sabbie Heesh
Goals: Petter 9'