Blue Wilson walks UK coastline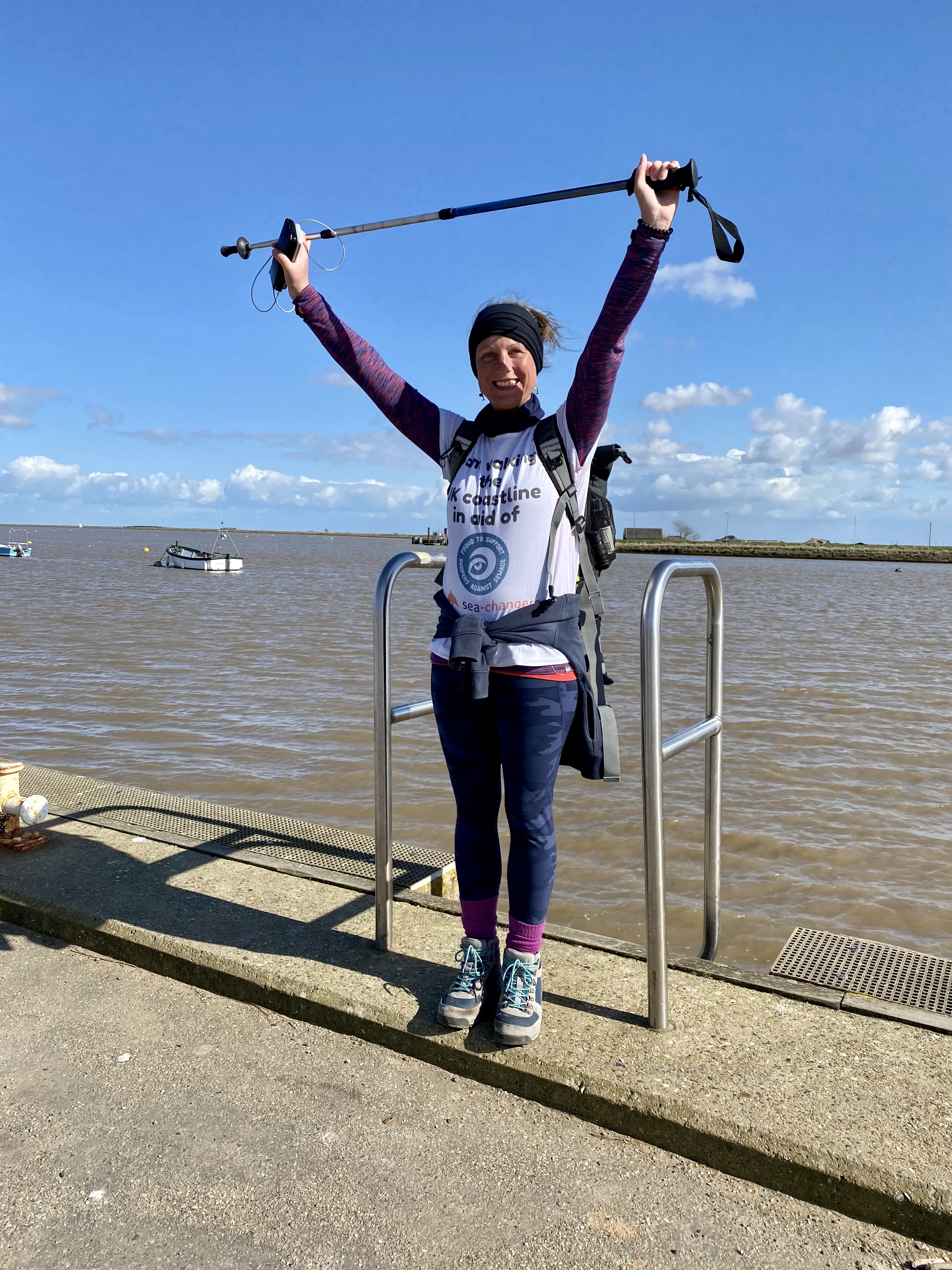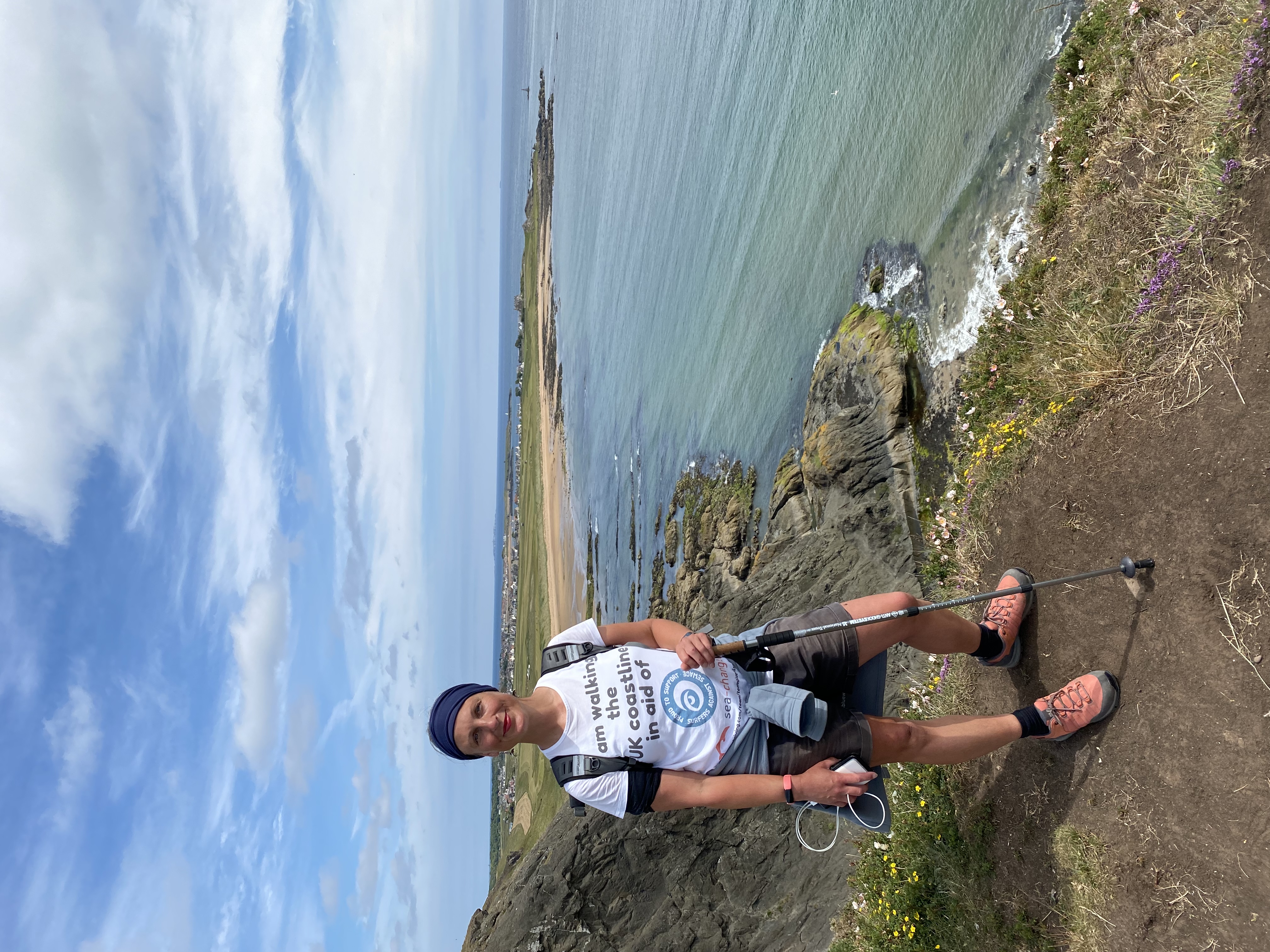 Hi. My name is Blue. I'm 48 year old woman and live in Selby, North Yorkshire and I am walking solo around the entire UK coastline.
So far I have walked 862.17 miles in 54 days and have reached as far south as Orford in Suffolk and as far north as Elie in Fife, Scotland in a continual line. I am taking on this challenge in stages due to other commitments and alternate sometimes between heading north from last most northerly point reached and heading south from last most southerly point reached.
I have also walked other long distance paths but am now focusing solely on this.
Now that I am committed to completing this challenge I am fundraising in aid of Surfers Against Sewage and Sea Changers, two marine conservation charities. So far I have raised £1,210 split between the two.
During my treks I have become increasingly aware of the perils endangering our oceans, marine life, coastal communities and climate. I have seen first hand some of the great work my chosen charities have done and I want to help by contributing as much as possible to their future projects.
My challenge is completely self funded including all travel to and from start and finish points, accommodation, sustenance and kit. I use my weekends and annual leave off work to complete each stage.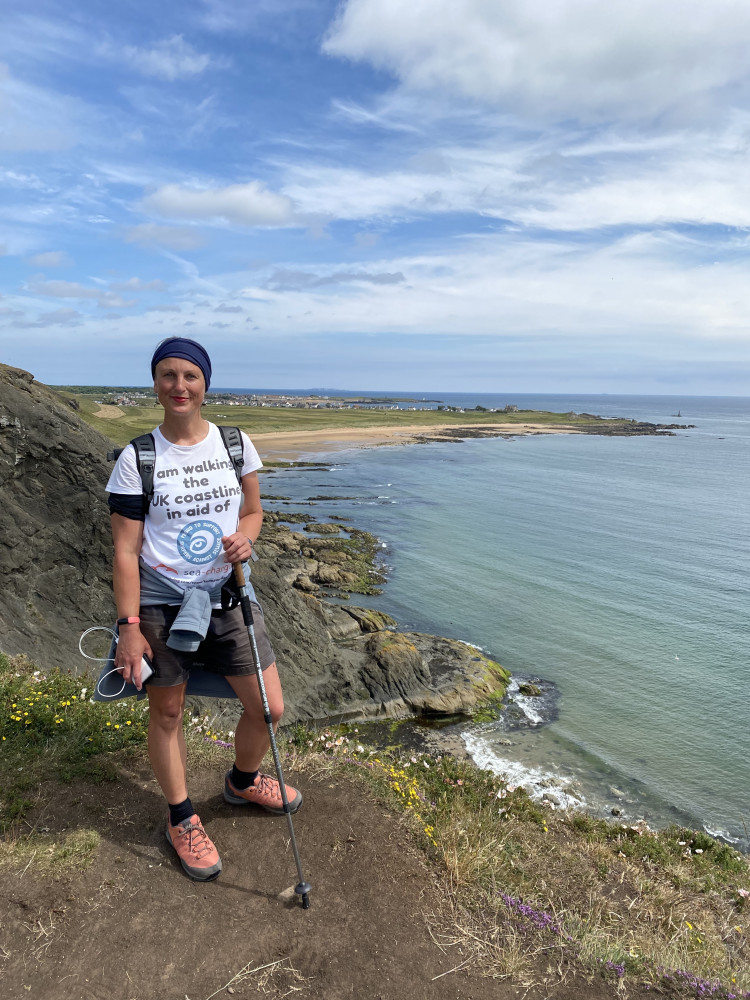 Elie on Fife coast supporting Blue walking the entire UK Coastline (Picture contributed)
I have recently got back from completing the East Lothian coastline, Edinburgh, Queensferry, crossing the Forth and commencing along the Fife coast. I've seen some amazing scenery and wildlife including a baby gull hatching and a crab falling from the sky (dropped by a gull)! I walked from Dunbar to Elie in seven days. I had another fall (more scars to add to the collection) and walked around two more islands.
Every year I hope to complete as big a section as possible until successfully completing the entire UK coastline in an estimated five years.
My next section will be back on the Suffolk coastline on the 23rd July for five days. I will start where I finished off when last down there at Orford and walk southwards finishing hopefully at Chelmondiston after passing Felixstowe, visiting Orford Ness and walking up and down several rivers. I cross all rivers and estuaries by nearest bridge or path so often it's a long walk inland. I'll only use a boat to get to an island and even then only if not accessible by bridge or causeway.
After that at the end of August I want to go back down to Suffolk and do another section walking southwards into Essex. I'm increasingly anxious about cattle grazing on public footpaths and sea banks at this time of year which is more likely in some places than others. All obstacles I have to overcome though to complete my challenge.
I have seen and experienced some incredible things so far on my journey and made some amazing new connections with fellow coast walkers. All doing it in their own way and for their own reasons and/or fundraising.
Whilst walking near Sandringham trying to find my route back to the sea bank when I walked the Wash the Queen passed close by me on a tiny road near her local church.
I've walked in all weathers including gale force winds, torrential rain, sleet, hale, snow and baking hot sun.
Although no injuries as such yet thankfully I did have quite a bad couple of falls recently and I do suffer with very painful feet often.
I once walked across a beach on the Yorkshire coast that was covered in potentially unexploded ordnance. The bombs were partly exposed by the low tide and I hadn't seen them until I was half way across the section that was littered with them.
I've witnessed a cliff collapsing as I was on the beach next to it.
I had to walk through a prison complex near Boston on the Wash as the footpath led straight through it. A week later an inmate serving life escaped from that very same place!
Once on the north Humber I waded for miles through waste high grass, nettles and thistles which was probably my worst experience. I was too far along the sea bank to turn back and could see no way off ahead so just had to plough on.
On the marshes in Norfolk I saw someone's small dog that had broken loose and was running around being preyed upon by three large birds of prey that were circling low over it.
There has been much wildlife to marvel at along the way. Incredible sea birds including puffins, many seals, deer including muntjac, and a whale (but sadly this was no longer alive). I was chased off a sea bank once by an angry ram too. So now not just cows that I'm scared of!
The scenery on every bit of the coastline so far has been mind blowing. Even the more industrial and urban areas. It's all part of it and thrilling. I've walked over and under many bridges, crossed causeways, been through a pedestrian tunnel all the way under the Tyne from one side to the other.
The thing I have found most heartwarming though is the support and utter kindness and generosity of friends, family and complete strangers (many of whom will see my fundraising top that I wear whilst walking and stop me to ask about my challenge and often donate money too which I always add to my Just Giving total).
I want to set a fundraising target of £4000 per year per chosen charity towards my final grand total aim of £20000 for each by the end of the full challenge. People can donate via my Just Giving page.
For further information on my chosen charities and me please go to:
www.sas.org.uk
www.sea-changers.org.uk
https://www.facebook.com/Blue-Wilson-Walks-the-UK-Coastline-100924032435883/
www.justgiving.com/team/teambluewilsonwalks
Instagram @bluewilsonartist
Please be aware if choosing to donate that I would like to keep funds as equal as possible between the two charities. Due to the nature of the fundraising page you have to set up a separate one for each of your chosen charities then make a team page.