Ganges ward councillor Derek Davis gives Babergh council report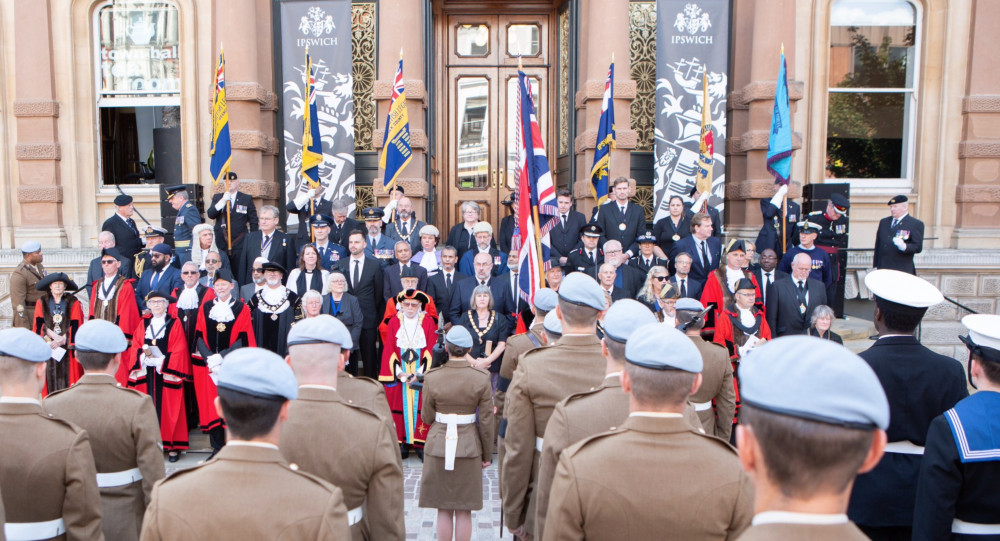 Representing Babergh at King Charles III Proclamation
Derek Davis, Ganges ward (Shotley & Erwarton)
After a period of deep sorrow and mourning we have now moved into the Caroleon era but as everyone that has experienced personal grief it will take time to adjust. While we never forget, we do move on.
I will forget the deep sadness I personally felt at The Queen's passing, as someone who had vowed allegiance to as a 16-year-old at HMS Ganges, and then as a Ganges councillor more than 50 years later.
Being on the steps of the Cornhill representing Babergh after having to step up for the Chair Kathryn Grandon at the King's Proclamation was a moment of personal privilege and pride.
Being a tiny part of this huge occasion in front of nearly 10,000 was a momentous time in history and, as always happens at these vents, it offers a tremendous opportunity to promote the Shotley peninsula during the lengthy time filling small talk.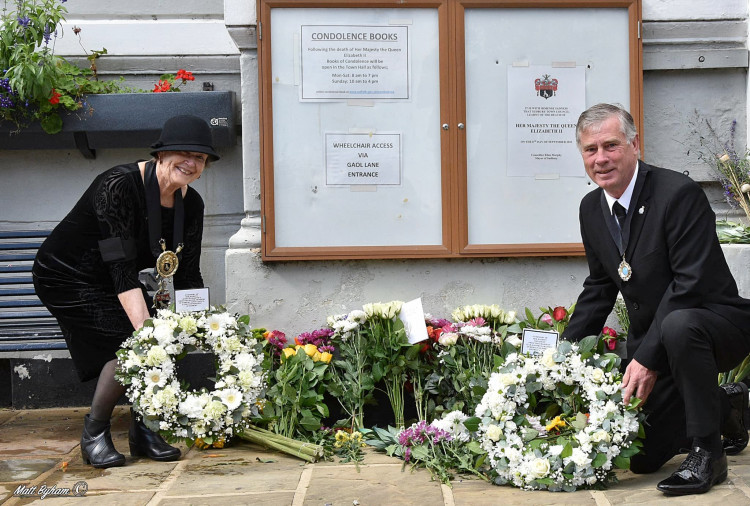 Represneting babergh at wreath laying for Her Majesty the late Queen Elizabeth II
Time for you to step up
One of the wonderful things about living in our community is the bond among the villagers, both young and old and those in between, and those who have been here for generations or newcomers looking to settle in.
So it is a little sad to see the Shotley & Erwarton Good Neighbours Scheme struggling to survive due to a lack of volunteers. So, please find a few hours a month, in your own time, to help out and keep this wonderful initiative going. Call ??? to find out more or put your name forward.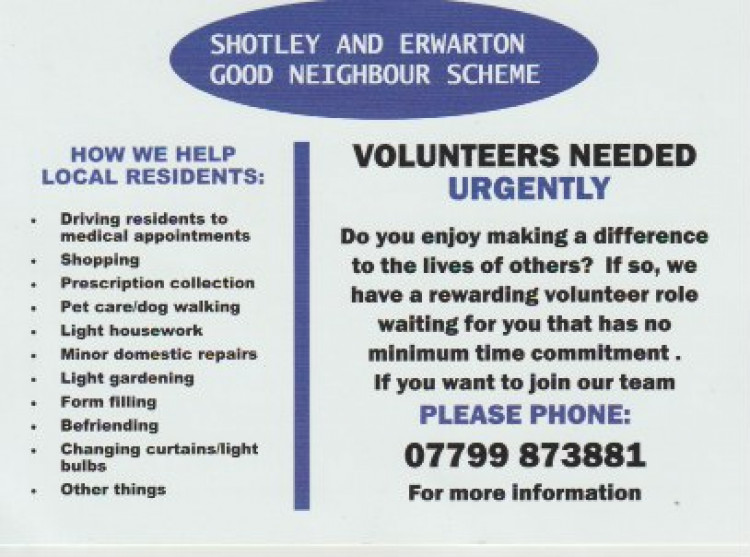 Getting things done
Since my last report, the yacht Pepper has gone from Shotley beach. A huge thanks to Babergh's Housing Solution team, Harwich Haven Authority and Shotley marina for helping me make this happen.
Meanwhile, in Erwarton the application to build homes next to the historic Erwarton Hall was eventually turned down. A difficult decision for a controversial and complex application and time will tell if this is the end we hear of this.
Ganges is green
I have been asked about our green credentials in our ward and I'm delighted to be able to say just how well we do. The new builds, Ganges Point) already include swift boxes electric vehicle charging pints, diito Admiralty Pier and Shotley Lodge. The whole Ganges site (known as Barrelmans} is equally aware of its responsibilities both in terms of ecology and heritage and the whole climate change awareness.

Babergh makes huge losses
The Cost of Living Crisis has hit us all hard, and it is not going to better anytime soon. Despite being a cabinet member at the time I voted against our budget as I had serious concerns and said so on more than one occasion. I was not alone, but still outvoted and we all now have to live with the consequence of our collective responsibilities and our residents are struggling at the council tax increase and other poorly thought out policies. So much so that Babergh has overspent by £782,000 and will have to dig into the £500k reserves to bail us out.
Congrats to cycling councillor
A huge well done to my colleague in Brantham, Alastair McCraw , who raised more than £600, at the last count, for Suffolk's Historic Churches after cycling round all the churches on the Shotley peninsula and some in Ipswich too, 31 in total. He completed the ride despite falling off at Stutton, just four churches into his route.

Personal tribute
I started this report, written originally for In Touch, so done three weeks ago, with a sad not about the Queen, but it is with huge sorrow I end it with my personal tribute to Lee Adams, a 40-year-old who passed away peacefully at home this week.
I was fortunate to know Lee for 20 years and he was genuinely one of the most decent people I have ever known. the love and respect he has from thousands of people was well deserved for man whose actions also spoke louder than the word. His loss has cast a shadow of sadness over Shotley as a village, and father afield. The marks of respect shown by the football clubs at Shotley and Holbrook reflects just how he touched so many in a positive way.
My sorrow and condolences go to all his family.
Tributes paid to much loved family man and sports favourite
Derek Davis
Ganges ward member
Council phone: 07548153784
Work phone: 07824167196