Brantham boss angry at players 'mooching about'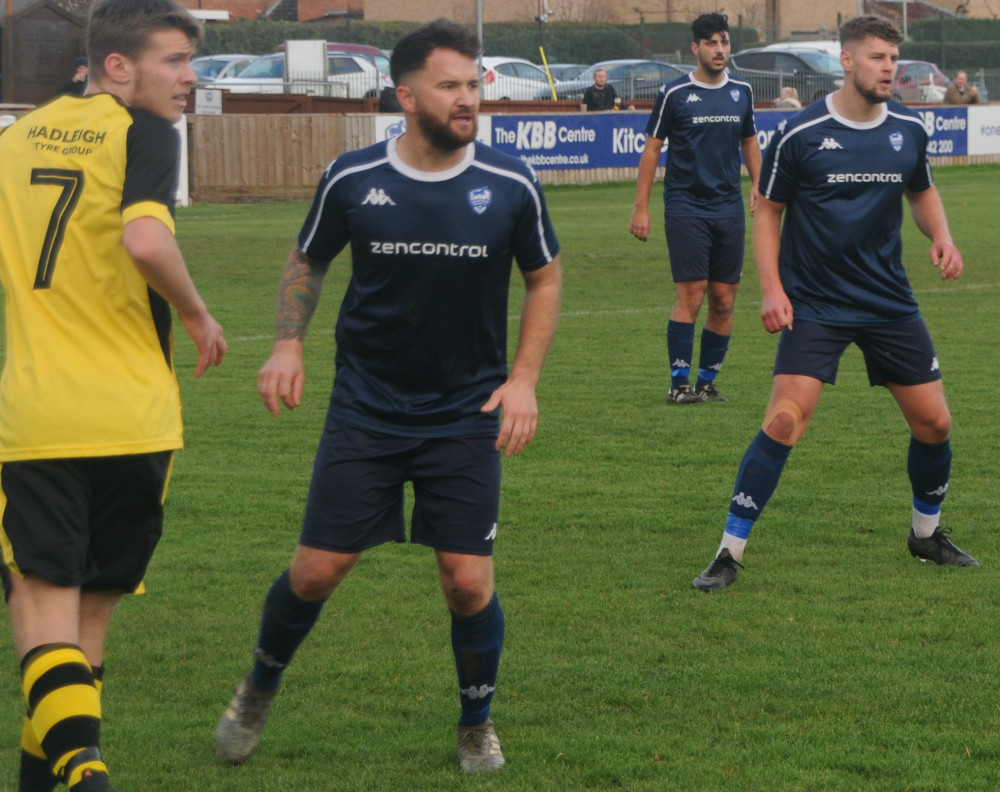 Brantham boss Pip Boyland calls for bravery on the ball (©NubNews)
Brantham player manager Pip Boyland has called on his players to stop 'mooching about' and show bravery on the ball, after they were beaten 2-1 at home by Hadleigh United.
Due largely to good goalkeeping from Matthew Walker, the Imps hung on until the 50th minute before going behind to a Angus Mills goal, with the Brettsiders having a goal disallowed for offside in the first half.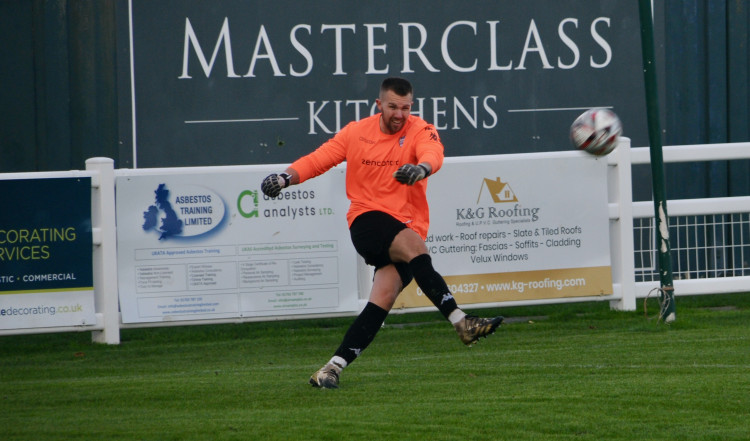 Matthew Walker - series of good saves
That lead lasted just 10 minutes until a double substitution paid off for the Imps as Charlie Iglesias and Jose Santa De La Cruz paid off and the speedy winger finished expertly.
Hadleigh recovered from that wobble and Louis Bloom hit a cracker from 25 yards to leave Brantham without a league win in 10 games.
Brantham finished with 10 men when substitute Alfie Own Jones marked his return from illness with a nasty stamp on Regan Pelling who was shown a red card by referee Nicoleta Bria who handled a potentially explosive conclusion to the game well.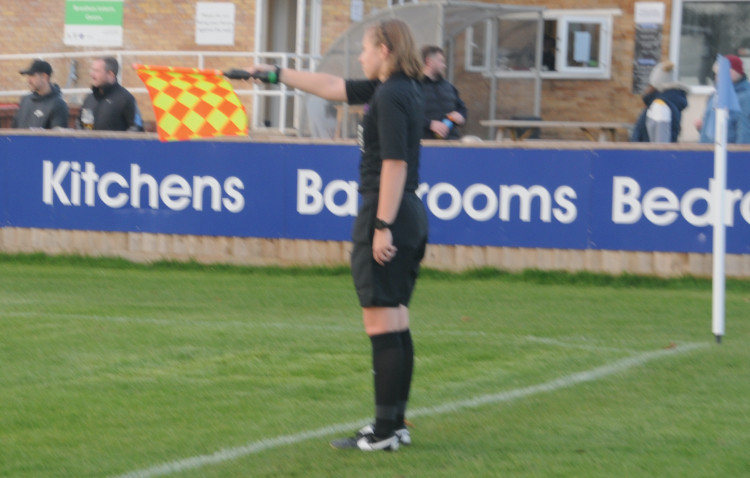 Saved by the flag (©NubNews)
Boyland voiced his frustration post match, especially given how his side had done so well at league leaders Thetford the week before.
"This is where we are at," said Boyland. "We get a draw away at Thetford last week with a really positive performance but today we were on the back foot.
"Players have got turn up and as soon as you get on that grass you need to show winning mentality.
"That is everything, tackles headers, the lot. You need to show bravery on the ball and you can't keep giving the ball back to the opposition.
"Everyone has to take responsibility at this level, you can't get caught mooching around and too many times people got caught mooching around.
"Players were walking round expecting things to happen, you can't good that.
Players have to make an impact. It is not enough just to turn up because you like football and are quite good at it, they need to be at their best every game."

Boyland accepted fourth-placed Hadleigh area good side, but felt Brantham brought about their own downfall, even though they got back on level terms through Jose Santa de la Cruz after good work from few substitute Charlie Iglesias.
"Hadleigh have good players, no doubt about that, they have creative players they have pace, but when we just keep giving the ball back it is going to be a long afternoon," said Boyland.
"We knew Hadleigh would come at us and we held them out first half, our keeper took responsibility and made couple of good saves."
The injection of positive play and pace from the substitutes buoyed Boyland who added: "Charlie took control, played a great ball forward and Jose is quick and good finisher.
"They had a great impact.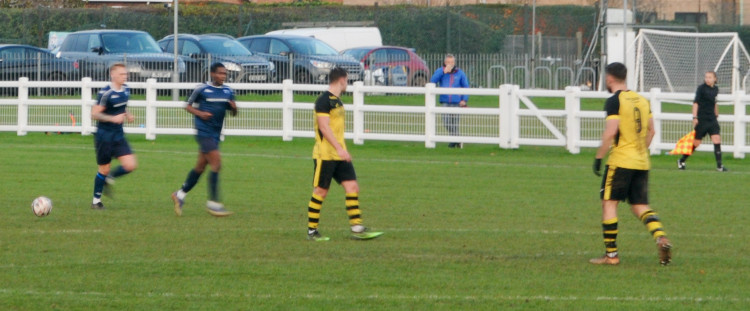 Substitute Jose Santa de la Cruz made an impact
"Jose is coming back from a hamstring and we are managing that but you can see his strengths and we have to play to that.
"Hopefully Jose coming back will give the lads a bit more believe and we can go forward more instead of being on the back foot."
Another sour note was to see Alfie own Jones, who is coming back after illness get shown a straight red by referee Nicoletta Bria for a nasty stamp on Hadleigh's Regan Pelling
Boyland said: "I can't tolerate that at any level of football. He could have really hurt the lad.
"We got back in the game, then someone get sent off for something ridiculous so he has gone for shower and left what was already a hard job for the lads, even harder.."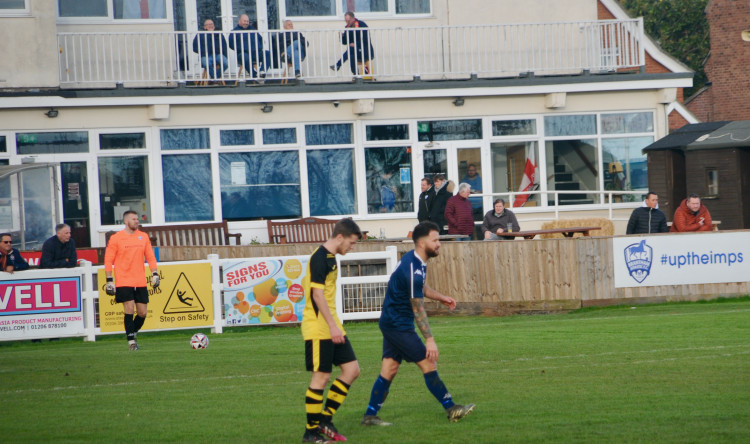 Brantham directors watching Botland's boys from the balconey
Despite the recent run of results, Thetford aside, Boyland still believes the side will continue to improve slowly and steadily.
He said: "We are a new side and still developing. We knew that at thestarta d we are still working on which packers can do what and can push on further, or those that are not going to e here in the future.
"From where we were shipping goals all over due to our distribution but since that 3-0 thumping at Hadleigh we have improved, step by step and if you want to be successful you can't be mooching around.
"You have to be consistent and play well every game."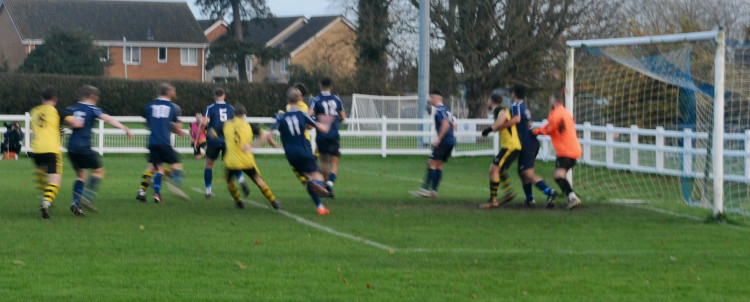 Hadleigh's stand in player manager Ben Elliott, was delighted to see his side get back to winning form in the league.
Elliott, who has been sharing managerial duties with Liam Scopes, since boss Steve Holder took a break due to illness, found himself at the sharp end as Scopes had to work as chef.
"Given we were low on numbers it was absolutely brilliant to get the three points," said Elliott.
"We knew it was not going to easy away at Brantham and the players could have used it as an excuse but those here had to turn up and they did that. To come away with three points is fantastic.
"We dominated most of the game and could have been put to bed before half time but we stick with it, didn't let our heads drop when we conceded and came away with the win.
"We gave the ball away cheaply for free kick and he (Jose) is so rapid and it was good finish.
"It has been the same the last couple of weeks when we could have scored more but today We dug in, ground out in the end with the goal and win."