Hospital nurses on 'heartbreaking' strikes and reports of staff using food banks
By Charlie Ridler - Local Democracy Reporter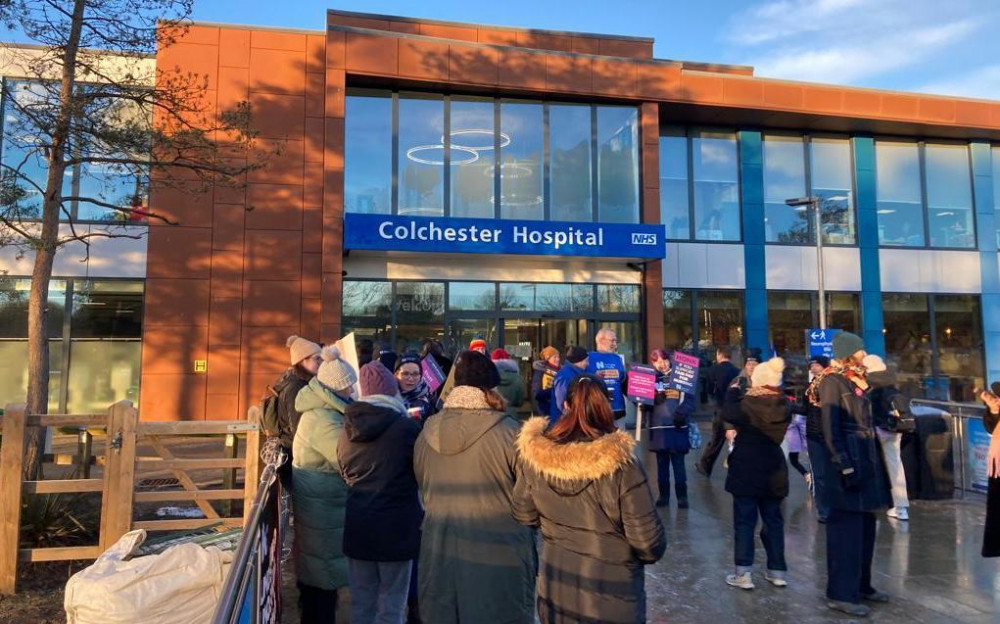 Picket line at Colchester Hospital
In 42 years of nursing, Sharon Arnold has never been on strike. But this morning (January 18) she braved sub-zero temperatures to join colleagues gathered outside Colchester Hospital, taking part in unprecedented industrial action.
"We want fair pay, so that we can recruit and keep the NHS safe. It's not safe and we're going to lose it if we're not careful," the nurse and union rep told the LDRS.
The Royal College of Nurses is taking action affecting 55 trusts in England this month, according to its website. Nurses are asking for a pay rise of 5 per cent above inflation.
Health and Social Care Secretary Steve Barclay has claimed this would cost £10billion a year and is "not affordable." Most nurses have received around between 4-5 per cent before inflation, according to the Department for Health and Social Care.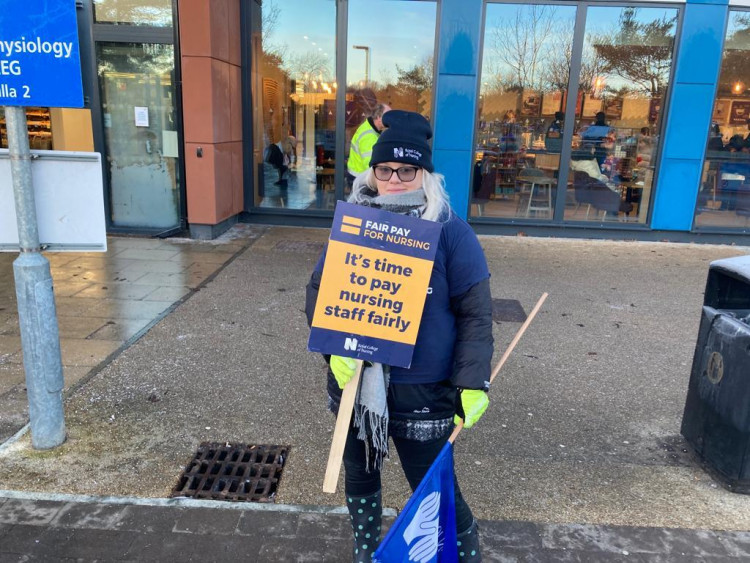 But nurses like Sharon say there are not enough staff in hospitals, affecting patient safety. Others told the LDRS about patients lining up in A&E corridors waiting for care and nurses living below the poverty line, relying on food banks to survive.
"It's about lack of staffing and progression for the youth of today coming into nursing," said Sharon. "If you're going to get a choice of working extra hours, nights and weekends, or can go and work in a supermarket and get the same amount of money working nine to five, what are you going to do?"
Nick Hulme, is the Chief Executive of East Suffolk and North Essex NHS Trust, which includes Colchester, Ipswich and Felixstowe hospitals which are used by staff and patients from the Shotley peninsula.
He said in a statement: "We have planned for all eventualities to keep our patients safe – this our top priority.
"We value all our staff and understand the importance of good pay and conditions for individuals and their families, as well as for wider NHS staff retention and recruitment. While pay is a matter for Government and the trade unions, we want to see a resolution as soon as possible to make sure we can continue to focus on delivering high quality and compassionate patient care to anyone in our communities who needs it."
'It's about respect'
"It's about respect," said Ann French, former lead urology and oncology clinical nurse nurse at Southend Hospital.
"It's about caring for patients, coming to work and having a decent amount of staff on those wards to care for those patients."
Ann retired from nursing after a 43-year career which saw her win Urology Nurse of the Year at the British Journal of Nursing Awards in 2020.
She said: "When I'm older and need NHS care I want to have access to it. I've spent 43 years giving it to other people and that's why I'm here. We've all got degrees, masters, we look after those patients day in day out and it is getting to be so difficult to do that. It breaks our hearts. We're emotional about it because we believe so passionately in it."
Ann also told the LDRS she disagrees with charging young nurses for their education. While there was a surge in applications during the pandemic, according to Ann there are now more people leaving than joining.
"For the nurses coming in who are having to pay £9,000 a year for that privilege, they don't earn enough when they're then trying to pay it back," she continued.
"They want houses, they want mortgages, they want holidays, they do want everything that everybody else wants but financially that's more of a struggle."
Going into schools to promote the profession, Ann says she wants nursing to return to being a respected career and that people should be inspired to join the profession. Her three nieces have become nurses themselves.
She said: "It's a fantastic career and we do fantastic things for patients, but we have to have our voices heard. This breaks my heart that we're having to do this to get our voices heard."
'Colleagues are going to food banks'
Louise, who did not want to give her last name, has been a nurse in the hospital's A&E department for three years, but has worked in healthcare for ten.
She told the LDRS: "We're striking for patient safety. It's been unsafe for years and throughout covid it just felt like we had to get through it. Now we're out the other side, it feels like the government is laughing at us."
"People are lining up in the corridors and not getting treated," she continued.
"It's just so unsafe at the minute and we can't carry on. Nurses are coming together and we're making a stand for our patients because that's what we took an oath to do."
Louise said under-staffing has an effect on morale, "taking a toll" on some nurses who feel unable to treat patients as they would like to.
Further than this, she says some of her colleagues at Colchester Hospital are forced to rely on the local food bank, which has nearby locations in Stanway and Newtown, as the rising cost of living continues to make life increasingly unaffordable.
She said: "I'm quite advantaged in that I'm not in impoverished circumstances like some of my colleagues. Their voices need to be heard. They're going to food banks and they're on the poverty line and they shouldn't be."