Sought after championship winner from the peninsula keeping options open
---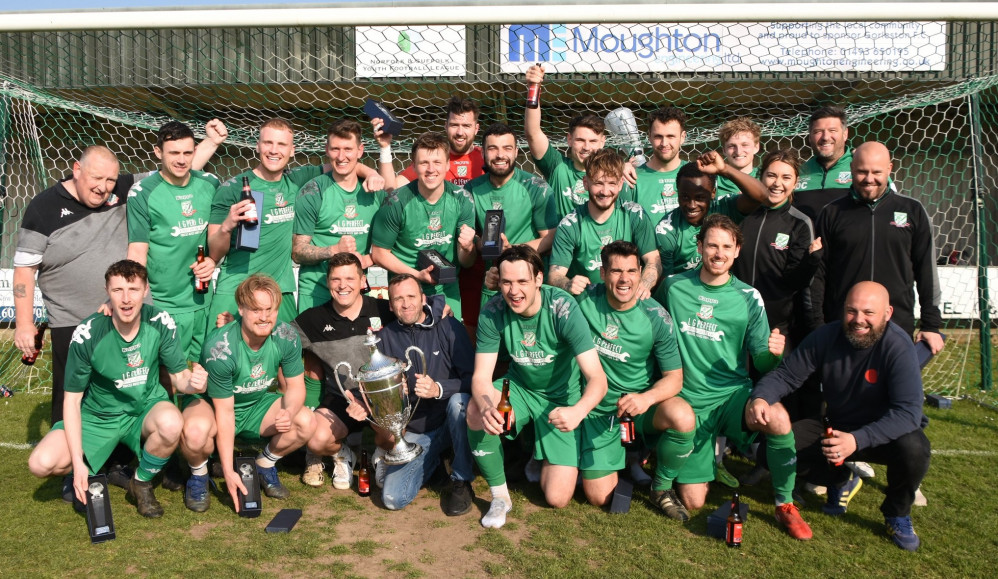 Harrison Bacon (second on left front row) with title winning Gorleston side (Picture credit: David Hardy)
Yet another peninsula footballer has enjoyed a successful season playing at a good non-league level.
Harrison Bacon, from Shotley Gate, helped Gorleston win the Eastern Counties Premier League title with a last gasp victory on the final day of the season.
Former Brantham loanee, Leiston and Woodbridge midfielder Harrison is studying History at UEA at Norwich and admits he is unsure which team will be fortunate enough to utilise his talents in the forthcoming season.
Once the 20-year-old has sorted his History degree, he will look to the future late in the summer. He will look for a job, possibly in sales or teaching, and admits he could even return to Shotley and work in a pub like the Shipwreck, while he decides.
"I can't commit to anyone at the moment," said Harrison. "It is a bit upon the air as I'm graduating this summer so it depends where I am."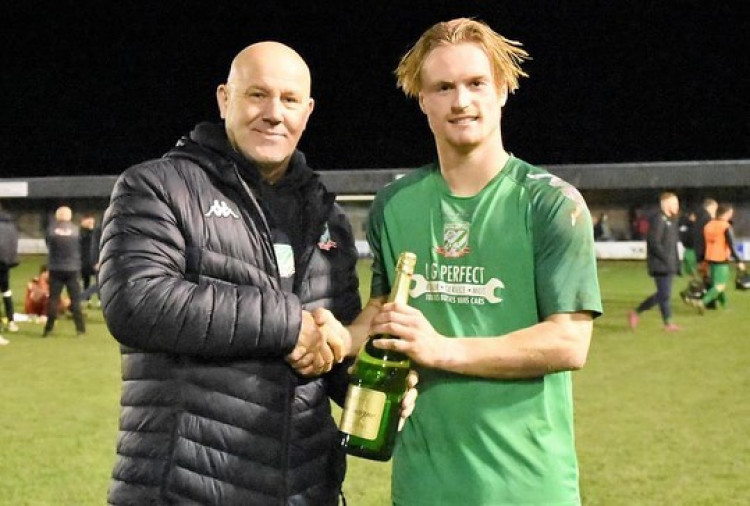 Harrison picking up a Man of the Match award at Goleston (Picture credit: David Hardy)
Among the possible suitors will be Gorleston who will be competing against Felixstowe in the Isthmian League Division One North, who reached the playoffs last season.
The Seasiders are managed by Stuart Boardley, who gave Harrison his senior debut while at Leiston, and could be another option.
Boardley admitted he would be interested in signing the attacking midfielder if the opportunity arose.
"The first thing I was impressed with about Harrison was his attitude," said the former Torquay United defender and Ipswich Town youngster. " When I took over at Leiston he was a really young lad but his attitude was impeccable for such a young footballer.
"Some young lads coming through the game and not quite what they once were, it is different breed these days.
"However, Harrison's work ethic and keenness to listen, learn and progress was impressive and that was one of the biggest reasons he why he got such an early opportunity ahead of others.
"He is a player with a good physique for his age, very fit and string and has all the attributes to progress in the game as a goalscoring midfielder, as I know he wants to be.
"Harrison is certainly a player I would consider joining us at Felixstowe."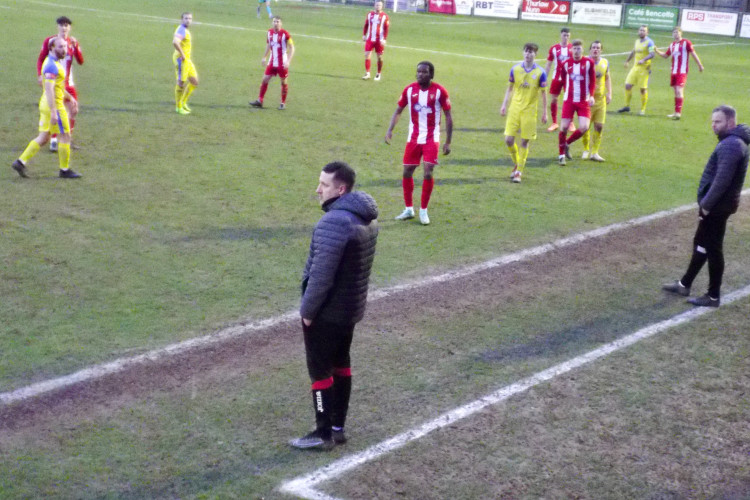 Seasiders boss Boardley known for bringing young players through (Picture credit: Felixstowe Nub News)
That could be ideal for the player who is keen to play Step Four level on regular basis.
"It would be great opportunity," said Harrison. "A lot of teams at that level are very well respected and with Lowestoft coming down, that brings a tasty local rivalry for Gorleston.
Ironically Harrison researched the Trawlermen's history as part of his degree, but he admits he loved his Championship winning season with The Greens.
Gorleston needed to win to pip Wroxham, who beat Brantham on the last day, but didn't take the lead until the 82nd minute and held on to win and clinch the title.
It was Gorleston's fifth Eastern Counties League title and their first since 1980/81 and Harrison played his part with 37 appearances, scoring three goals.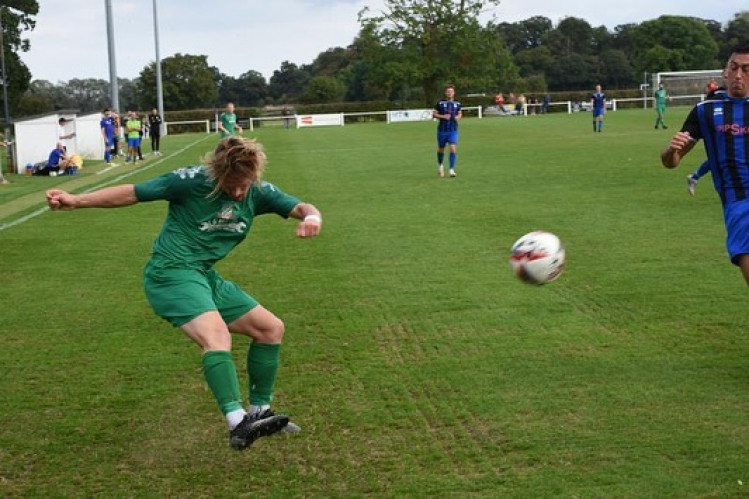 Harrison bacon in action for title-winners Gorleson (Picture credit: David Hardy)
After an initial loan period in the January of 2021, Harrison signed for them in the August and quickly settled.
He said: "To be able to go in there in my first season they made me feel I had been there six season was outstanding.
"Gorleston has been great for me with so many big names in the changing room. So to be able to listen and learn from them, as well as playing regularly, was excellent.
"We were a very strong team, it was very close with good friends and that bond helped us get through the rough patches of the season.
"When it got tough and we had couple of losses, we were were able to stay together as one team.
He recalled on particular game which he believes was pivotal in him picking up a league title medal.
"Winning the title this all season boils down to Wroxham away on a Tuesday night," he said. "We were missing couple of players. it was very close we had only lost one they lost one, it was a cold and tough night.
"The way we played was like something I had never experienced and Connor Ingram scored.
"Everyone ground themselves into the ground in front of the biggest crowd many of us had played in front of until we won the league on the last day.
"That win at Wroxham was quite early in the season but because we had done that gave us the confidence for the rest of the season.
When you have played like that and earned the right to win against a very good side gave us all a huge feeling of satisfaction."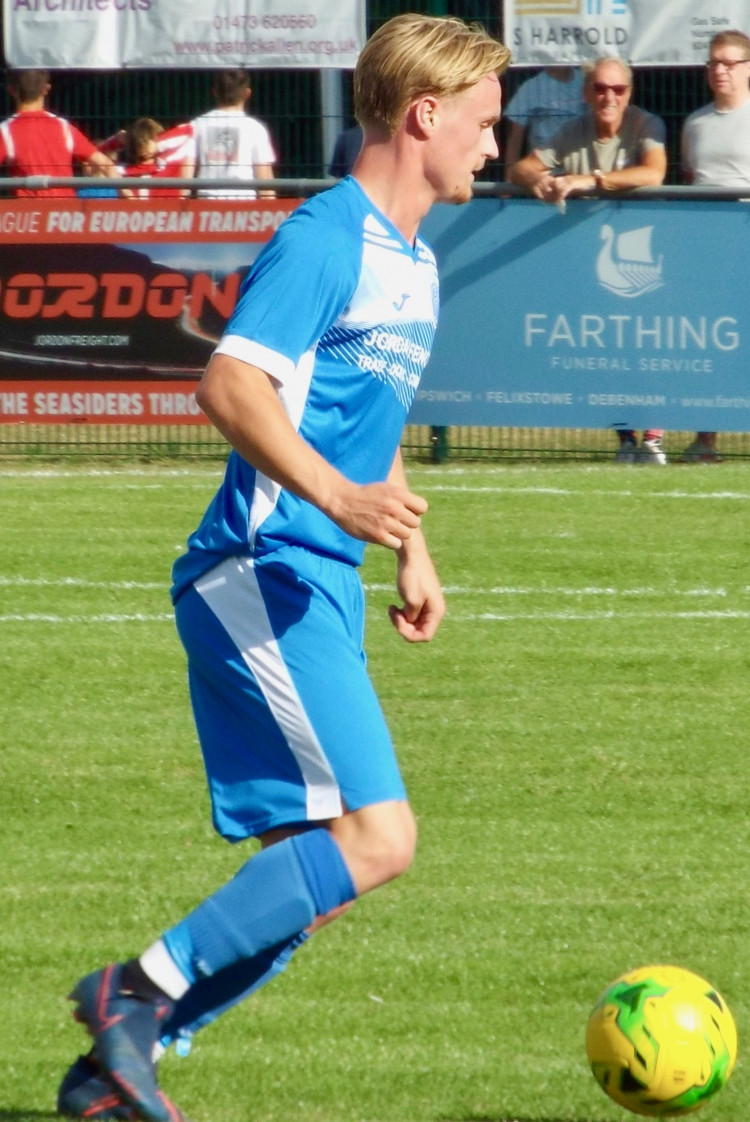 Harrison made his senior debut with Leiston (Picture credit: Felixstowe Nub News)
An attacking midfielder, Harrison has made more than 110 senior appearances since his U18 days at Woodbridge and Leiston and had a successful loan spell at Brantham a couple of seasons back.
Although a Shotley boy, Harrison played his youth football at Woodbridge, where dad Mike, a sports journalist, was coach of the year above where brother Pierce played in the team.
Although he has come a long way from kicking a ball about with his brother and friends on Lloyd Road play area in Shotley, Harrison learned a valuable lesson from his dad, which has always held him in good stead.
"Dad has always coached me to enjoy playing," said Harrison. "He has always said never forget football for the enjoyment whether you get to semi-professional or whether play Sunday morning, that has never been lost on me.
"Playing with teammates you get on with and go and enjoy a beer with afterwards is so important.
"You can go into a big changing room and pretend you are in big league but not get on with anyone.
"That is not much fun and while you are getting paid, it feels like a job and not like your favourite sport that you have played sine you were about six."
Other impressive young footballers from the peninsula
Josh Stokes gets his own back on Ipswich Town
Tommy Smith tipped for bright future by Felixstowe boss
Top scorer Hayden Catchpole commits future to Woolverstone United
Who would you like us to feature next? Contact the editor: [email protected]