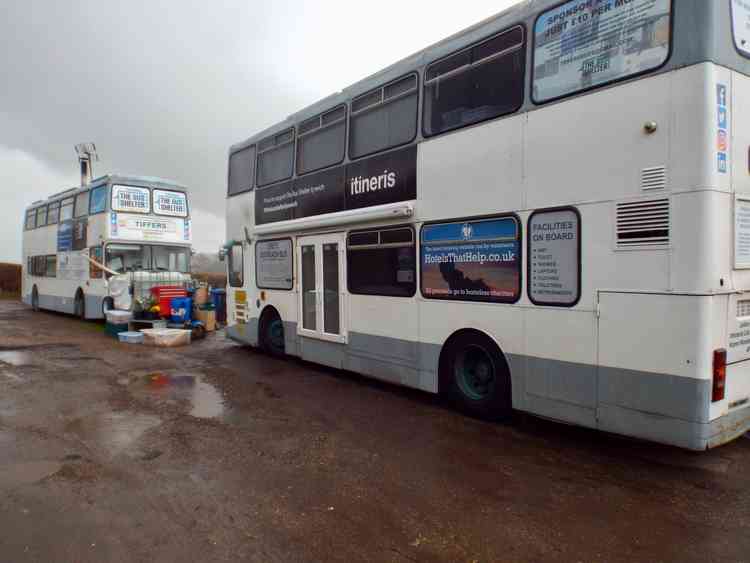 Tiffers with Chey in Freston lay-by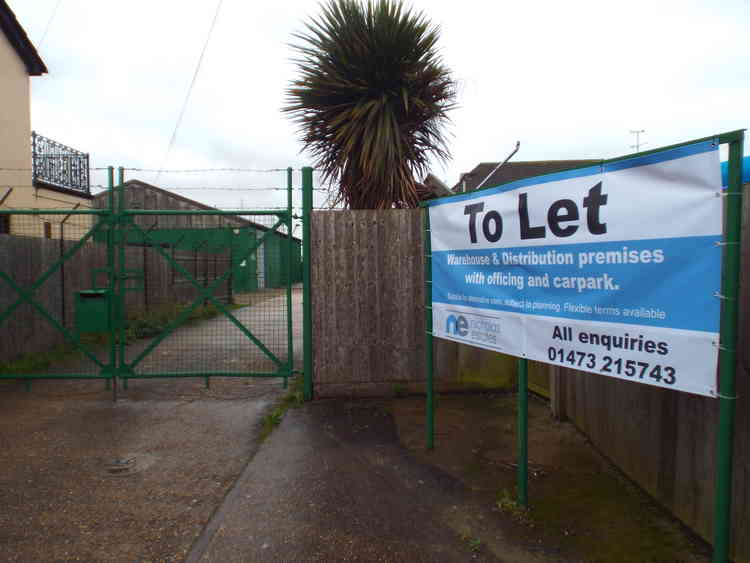 Tiffers' new site, if all goes well.
Tiffers the bus to help the homeless, has found a new home of its own, but like many making such a move, needs help with the initial rent.
The controversial homeless bus project, has agreed a deal to move from its current base in Freston lay-by into the former Hertz Car Rental premises, behind the Premier Stores, and petrol garage at Bourne Bridge.
Gareth Brenland, who runs Tiffers and its sister outreach bus Chey, has the deposit of more than £7,000 in the project's coffers, but needs to cover the cost of the rent and ancillary cost, so is looking for sponsors to help cover the initial costs and is asking each to donate £250 per month for the first year.
In return for the donation the good Samaritans will be able to advertise their business on the side of both buses.
"It is going to be a costly exercise but one we feel is worthwhile," said Mr Brenland. "We need 10 people to contribute £250 each to get us going, then hopefully after that we will be able to sustain the payments ourselves.
"We have already had a couple of people promising to donate, but we ned more to cover the costs. The rent alone is £1,750 a month and there are other costs on top.
"Although we do have some income from various fund-raising, we are a Community Interest Company and rely heavily on donations, and other funding when possible."
The move is conditional on the land owners successfully receiving a change of use permission from Ipswich Borough Council, as the bus provides free overnight accommodation for the guests they help.
Tiffers and Chey, which are a key part of the Ipswich Homeless Bus Project was started two years ago by Gareth and Sarah-Jane Brenland after they saw the amount of homeless people on the streets. The couple started by just providing blankets and support, but then saw a bus project on the Isle of Wight and decided to replicate it here.
After refitting the first bus Tiiffers, named after one of their daughters, in the garden of a B&B owner, they struggled to find a suitable home for the bus, and settled into the lay-by at Freston, fully intending it to be short term solution.
However, despite a range of potential sites being identified, agreement with landowners could not be secured, until now.
Some Freston residents were furious at having these new neighbours and numerous false rumours and accusations were spread, with the parish council particularly keen to have them moved on.
But the project received strong support from the wider, with numerous people providing hot meals on a rota basis, donating items to sell in their small shops, first in Ipswich and now Trimley St Martin, and also giving donations for produce given to Tiffers at their Freston site.
The bus can accommodate up to six guest at a time and since starting in November 2017, 30 people have stayed there, with the vast majority going on to find permanent homes and jobs.
To contact Gareth with help towards lease costs or for further information email [email protected]
Or hit the red button below to go to their Crowdfunder page.