Blossom Appeal Thank Kind-Hearted Wheatsheaf Customers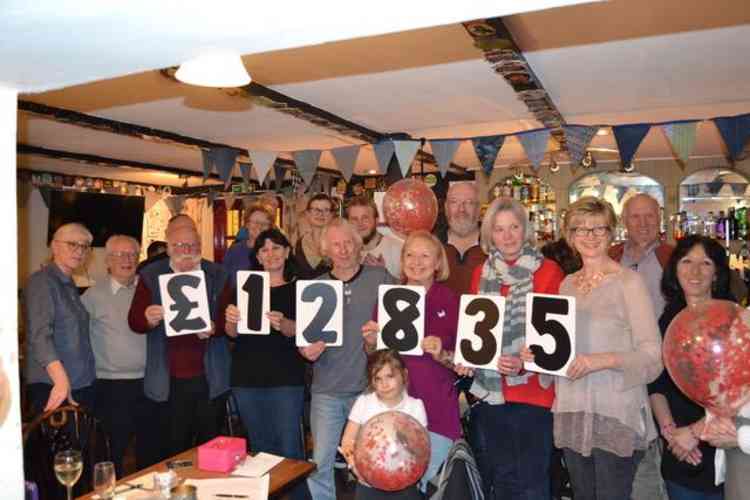 The Blossom Appeal thanking Anna and Kevin, and some of their customers at the Wheatsheaf, Tattingstone.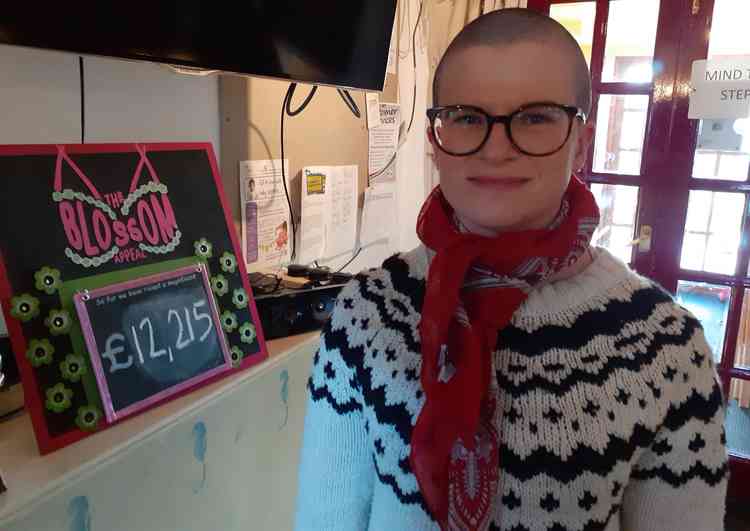 Landlady Anna Durance had a sponsored head-shave for the Blossom Appeal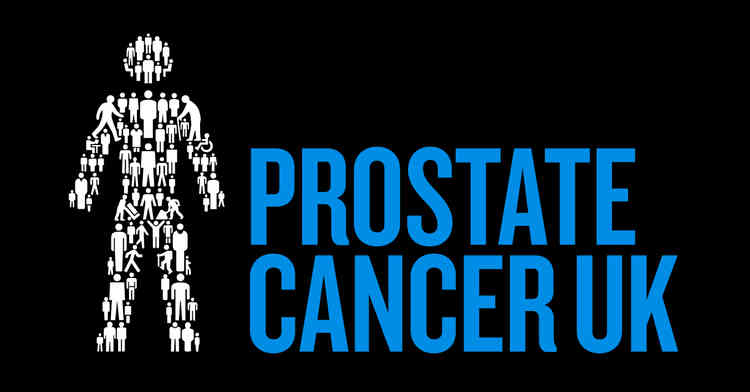 Prostate Cancer is the new Wheatsheaf charity
Every year, The Wheatsheaf, Tattingstone nominates a charity for their annual appeal, 2019 was the Blossom Appeal. Breast Cancer has affected many people in this and other local villages and this appeal is helping to build a new Breast Care Centre at Ipswich Hospital to help families and friends cope better with the illness.
The total amount raised was a fantastic £12,835 which was presented to Brian Taylor, Community Fundraising Manager for the Blossom Appeal on Friday 14th February.
Sue Gipps, Blossom Appeal Co-ordinator, said: "For such a huge amount to come from a small village pub and community is truly amazing. I had in my mind a target of £5,000, never in my wildest dreams did I expect such a wonderful amount. There are so many people who supported this appeal, from marketing, event planning, cake baking to tutu sewing, I'm unable to thank everyone but please be certain, I'm really grateful to you all. A massive 'thank you' to Kev and Anna who allowed us to use the Wheatsheaf for our events and especially to Anna who has raised more than £1,000 with her 'Brave the Shave'."
Brian Taylor said of the amount raised "Thank you to Sue Gipps who nominated the Blossom Appeal, to Anna and Kevin the landlords of The Wheatsheaf Inn and everyone who supported the magnificent fundraising efforts during 2019 to raise a wonderful £12,835.
"The Blossom Appeal is aiming to raise £2.5 million to build a new Breast Care Centre at Ipswich Hospital and this donation has pushed the total raised closer to £500,000. The new Breast Care Centre will bring all breast services and staff together to improve efficiency, streamline clinic appointments and improve the patient experience."
This year, 2020, the Wheatsheaf's charity is Prostate Cancer UK, unfortunately another disease affecting friends and families in the village and surrounding areas.