Kidzone Doing Their Fare Share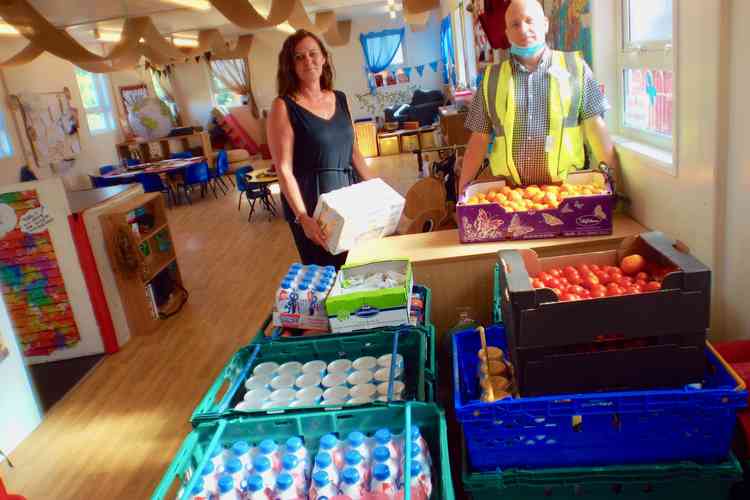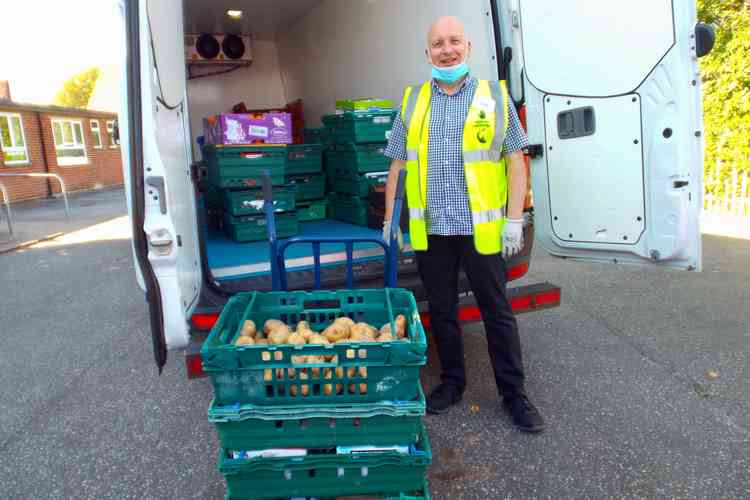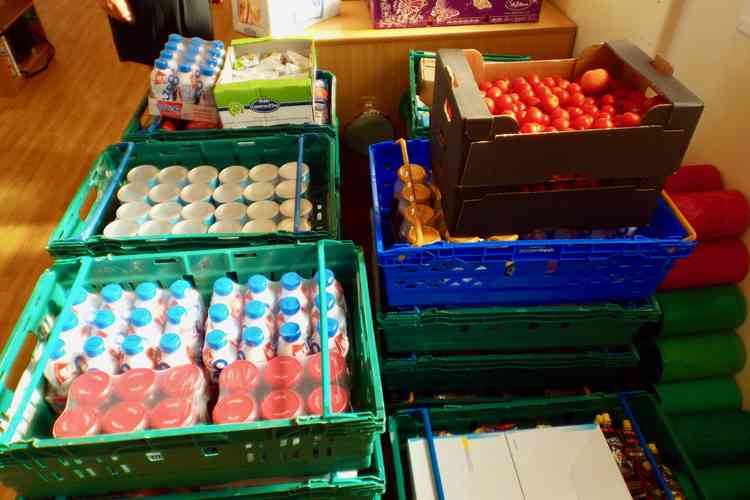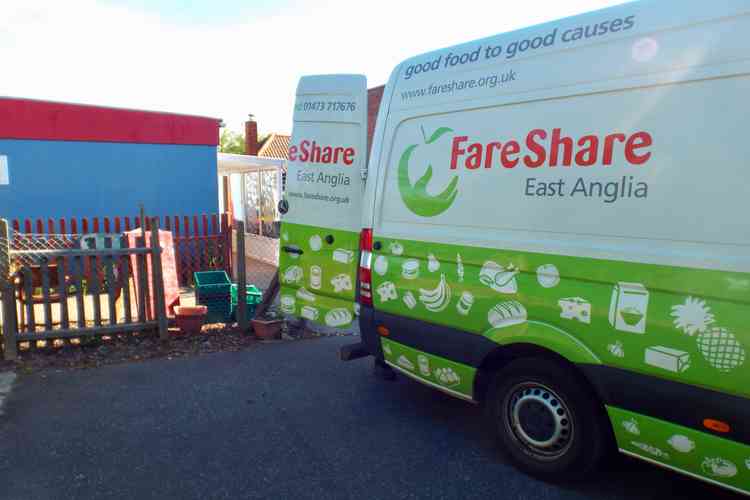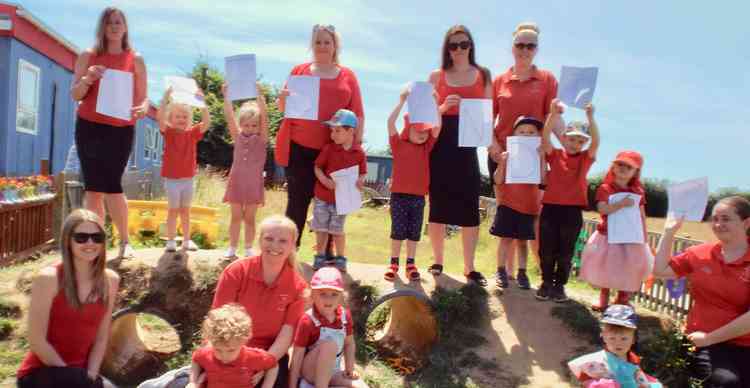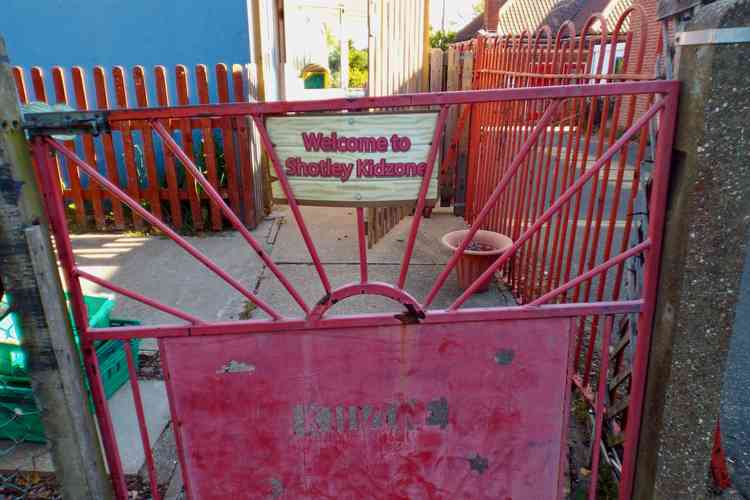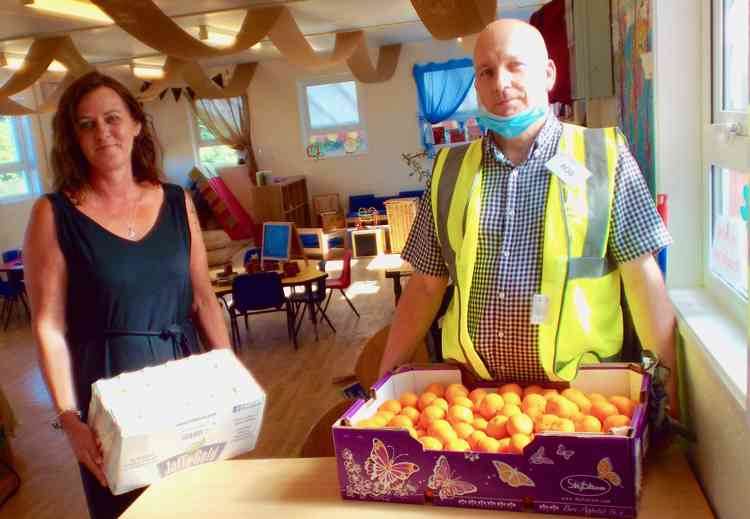 Every Tuesday morning a white van with green markings unloads trays of fruit, vegetables, juices, even ration packs from the United Nations, to be distributed to scores of people on the peninsula.
This is Fare Share delivering to Shotley Kidzone, where the painstaking task of packing the produce into parcels by a small team of willing helpers takes place.
More than 100 people a week benefit from the combined efforts of Kidzone and national food bank charity Fare Share on a weekly basis, after the partnership quickly adapted to the Covid-19 crisis.
One of Fare Share's delivery volunteers is Rob Billing, who lives in Shotley Gate and regularly drops off first thing in the morning to a waiting Therasa Butcher.
Therasa is manager of Kidzone, which provides wrap around care and a nursery for pre-school aged children, and first started working with Fare Share last September, so they were ready to help the community during lockdown.
"We didn't want people coming to the setting so myself and the staff volunteered to come in, section it all off and we then distribute the parcels," said Therasa,
"It goes to families we know, they appreciate the extra pieces, some of the staff welcome it and we help out.
"Some of the excess we leave outside a property on Bristol Hill and people can help themselves for free.
"We have also given some things to the village hall, which is operating a similar system, so nothing goes to waste."
Kidzone was rated 'Outstanding' by Ofsted earlier this year, with staff and management praised in the inspectors' report, so it comes as no surprise at how the charity facility has responded.
Therasa said: "I have always been proud of the team we have here. My staff have always stepped up when needed and every single one volunteered to help out during this lock down."
Going above and beyond is normal for Kidzone and providing a little extra treat now and then helps the wellbeing of all 60 youngsters and their parents.
"Because Fare Share know us, know what we do for the children, some of the companies that supply them know us too," said Therasa. "For example, Waitrose gave us extra items for the children and we have been able to put together goody bags for the youngsters.
"We also been able to put together a little parcel for every parent of our pre-school children too, with thing like chocolate and face cream."
Former soldier and BAE engineer Rob, who moved to Shotley from the west country, normally volunteers on a Friday but has subsequently added Tuesdays, and other occasional days now to meet demand.
Rob said: "A typical Friday will be taking a full van to Norwich and then spent covering homeless shelters, residential home, Trussell Trust, schools, Labour Group, and Christian Society, which will take six or seven hours.
"There is such a need now, a usual week used to be about seven tonnes of food distributed, it is now 21 tonnes.
Rob admitted volunteering for Fare Share has been an eye opener for him and how much need there is, sometimes in the unlikeliest of places.
"I never realised anything like this came to the Shotley peninsula so it is great to be able to help," he said. "Teresa and her staff here at Kidzone are doing a wonderful job and this is an addition to what they do normally.
"It is a pleasure to do the peninsula route, especially as Chris drives, so I get to see things here I don't normally get to see when I'm driving myself.
"I have always known about Kidzone but probably didn't appreciate just how good it is in here and what they do. It feels good distributing this amount of food here, knowing how welcome it is too."
Therasa described how Kidzone was looking to increase its use of Fare Share last month, before necessity forced another shift in focus.
"The scheme was up where we pay a weekly charge and use those items to give to our children, breakfast, snacks evening meals and anything else," said Therasa
"Any excess is put in a separate pantry and the parents put a donation into a pot and help themselves, so nothing goes to waste.
"Not only does this help us financially and as a charity that is important, but it also helps eliminate waste, we like that and the parents like that too.
"We were going to change our system slighty in April, where
anyone with a low income or on benefits, anything could discreetly sign up and we would set the scheme up in a separate cabin away from the children. "It would have been about £3 and they can take up to 12 items and off they go. Although we never make a profit as such, it would help us financially and help parents in the community. "Then, due to Covid-19 this obviously did not go ahead. Mike from Fare Share then said we could have the items and distribute it as we wanted." While Rob and his colleagues in East Anglia delivered the equivalent of 50,000 meals a week, nationally that equates to 11.6million meals, 4,700 tonnes. Rob believes the well organised nature of Fare Share, working with charities such as Kidzone meant it was well-equipped to react to the lock down nationally. "Being so established meant Fare Share was ready to go as soon as the lock down started. They have all the links with supermarkets and other food outlets," said Rob. "Fast food companies knew where to go to give the food when they had to shut down and other agencies knew about Fare Share. "Not many people really knew about it before, but you have people like Marcus Rashford the Manchester United player talking about it, the Co-op mention it in their advertising, it is becoming a nationally recognised charity by ordinary people. "Even just seeing the homeless guys who can't see anyone else, residential homes and organisations like the Labour Group distributing to food banks throughout Norfolk."
Link here for more information about Shotley Kidzone
Link here for information about Fare Share.
If you have a story you would like Nub News to follow up then contact
[email protected]