Gun salute, minute's silence and seven goal thriller as Shotley Rose team pay respects to former player Lee Adams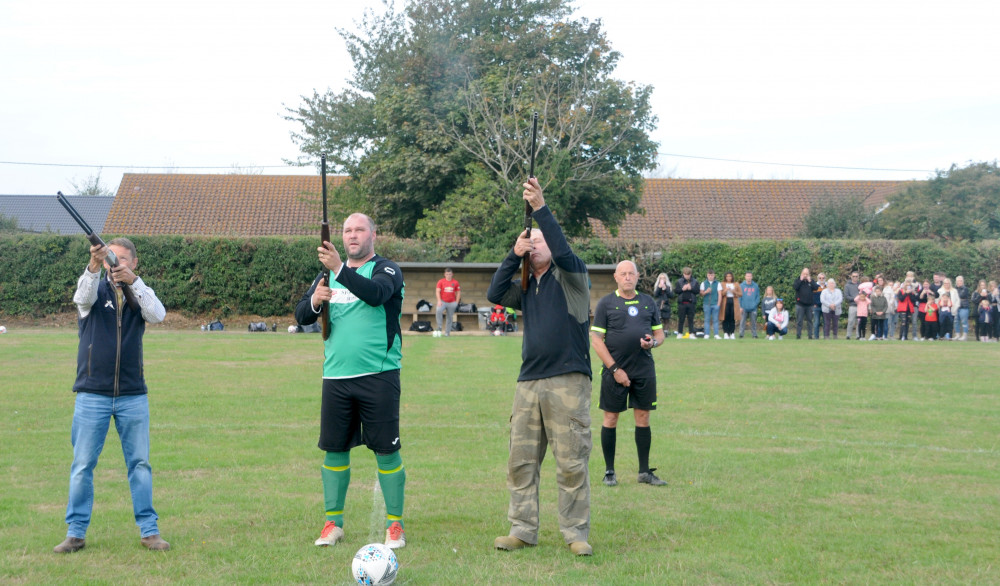 Gun salute, with Elfie Hubbard, Paul and Graham Adams (©NubNews)
It was a mark of the man that nearly 150 well-wishers turned out for a Sunday morning league match to pay their respect for Lee Adams.
The minute silence held before the game was so well observed you could hear the grass rustle in the gentle breeze after the first three-gun salute was fired on the referee's whistle.
A second firing from Lee's dad Graham, brother Paul and close friend Elfie Hubbard was followed by a resounding round of applause from the spectators on the Shotley Rose field.

Shotley Rose pay respect to former teammate Lee Adams (©NubNews)
The cloud cover broke and the sun shone down on the crowd and the players as the Shotley Rose team came from behind, in Lee's true grit and determination style, to beat a young and lively Martlesham Old Boys side 4-3.
Ste Adams captained the side, Paul played at the back, and third brother Shaun was there along with many other family members, including Lee's wife Cassie and the children.

Almost 150 turned up to game (©NubNews)
After the game Ste and Paul said: "It is absolutely brilliant to see so many people turn out for Lee.
"We want to thank every single person here and those that have sent messages and contributed to the Just Giving page, That will make things just that little bit easier for cats and the kids.
"The love and appreciation for him has been incredible and we want to thank the Shotley Rose club, Sarah at the pub and everyone for what has been put on today."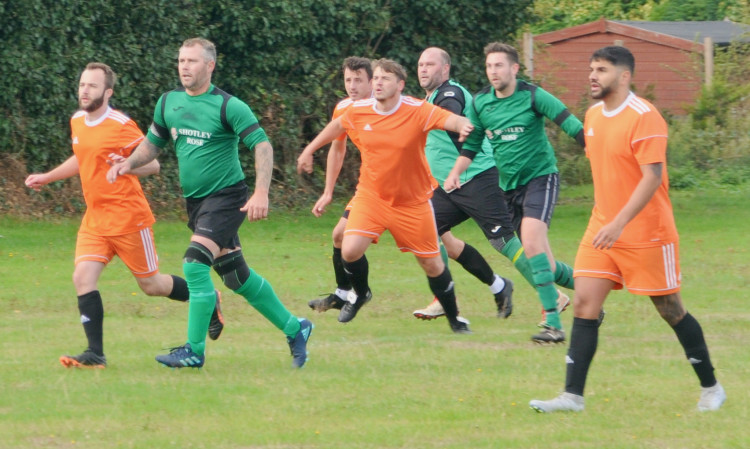 Goalscorers Ste and Paul Adams in thick of action (©NubNews)
Tommy Smith hit the opener for Shotley as he got on the end of a sumptuous pass from Ben Grogan from inside his own half. Smith still had much to do and cooly dinked over the keeper before tapping it home as The Rose led 1-0 at the break.
However, Martlesham hit back in the second half with three goals and looked comfortable until Shotley Rose rallied and Paul Adams bundled in a corner, making up for the one he had chalked off in the first half when the referee deemed the ball had not crossed the line.

Shotley Rose field crowd for Lee Adams
Ste Adams calmly tucked a penalty away into a bottom corner, before Daniel Cook snatched a late winner with a well taken finish from a tight angle.
Ste admitted he wasn't sure about taking the penalty but added:They told me before the age I was going to be skipper and would take any pens. I wasn't sure but just got the ball and went for it. I'm just glad it went n and we won."

Skipper Ste Adams puts away penalty (©NubNews)
The brothers hailed the come back victory which they said epitomised how Lee played the game.
Paul said: " We did well first half then struggled a bit until fresh legs came on and kicked us up the backside a bit.
"Lee would never give up, although he was alright at football he never gave up. He was always willing and determined to give 100% and that's what these players did today.
"They are young and want to thrive, so to come back from 3-1 down to win 4-2 was brilliant."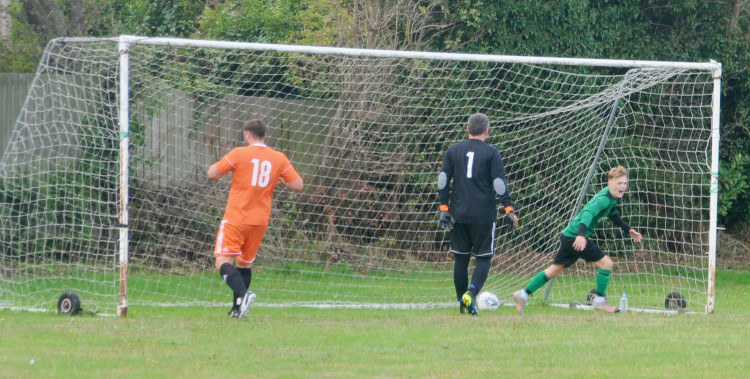 Tommy Smith opened the scoring (©NubNews)
A minute's silence was also held at Woolverstone United the day before, while Holbrook Hornets held a minute's applause for Lee before their training session on Thursday.
Shotley Rose landlady laid on sausage and chips for the players and all the pub card proceeds will go to Cassie and the children.
A Just Giving page put up by family friends Dale and Sam Weeding, to ease her family's burden, has reached more than £23,000 and is still open.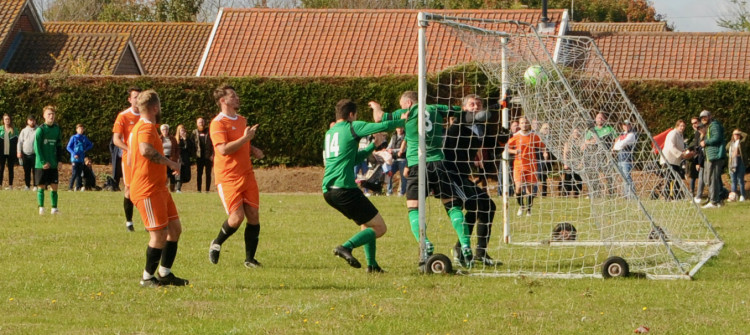 Daniel Cook forced in winner (©NubNews)