Griff Rhys Jones in cycle path row at Stutton home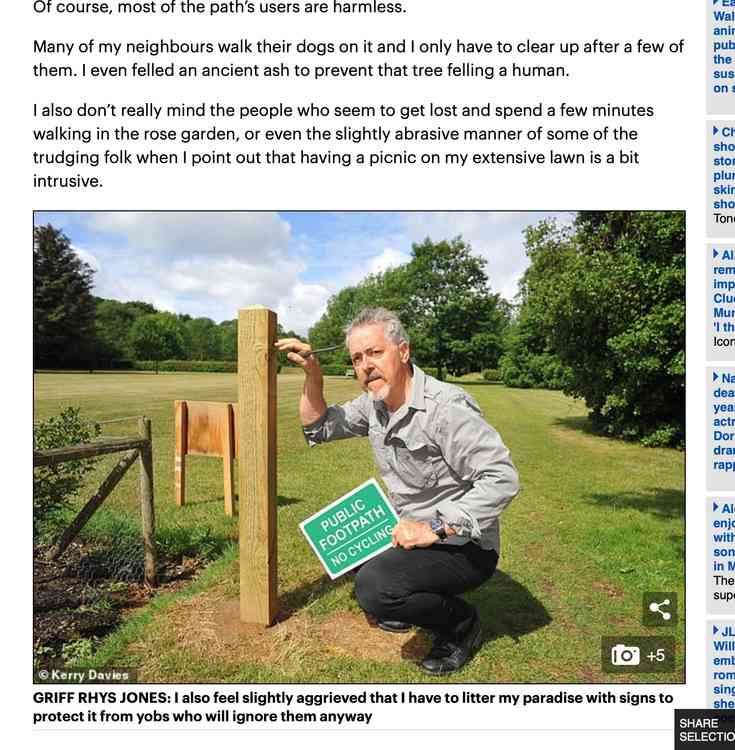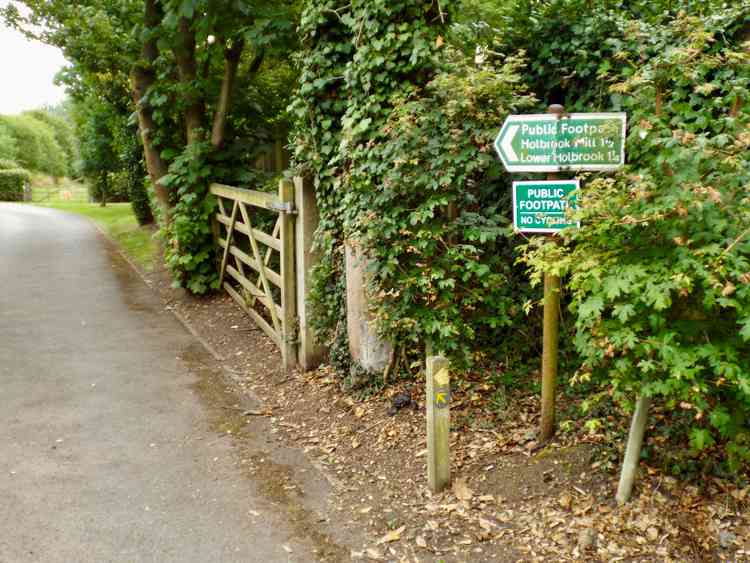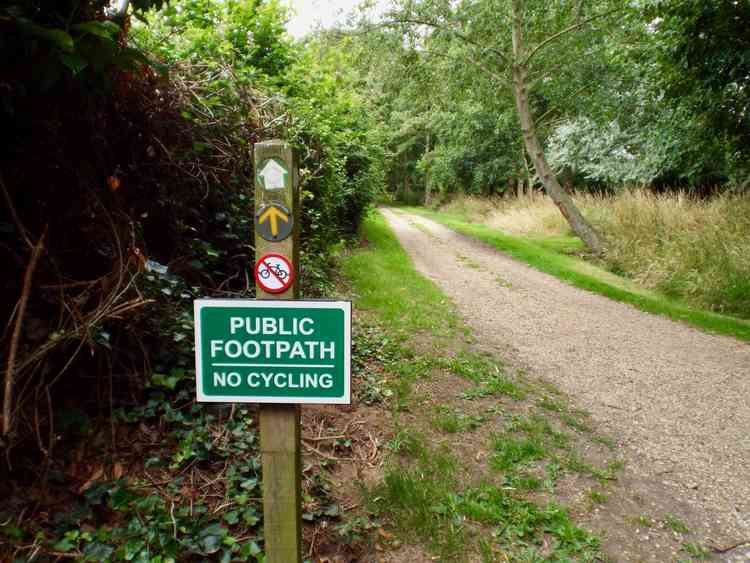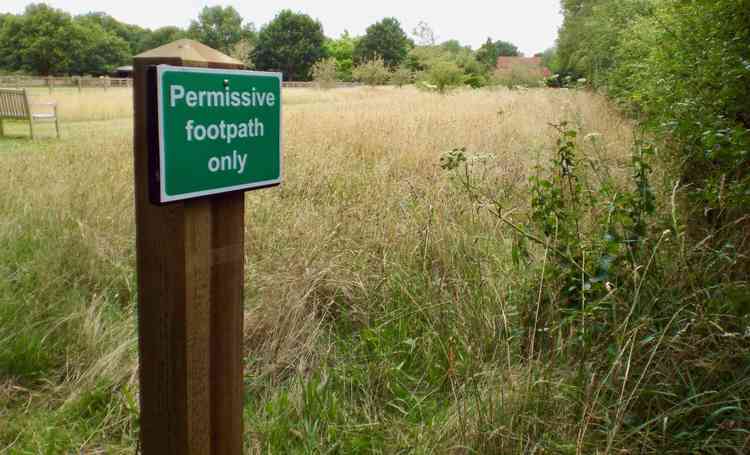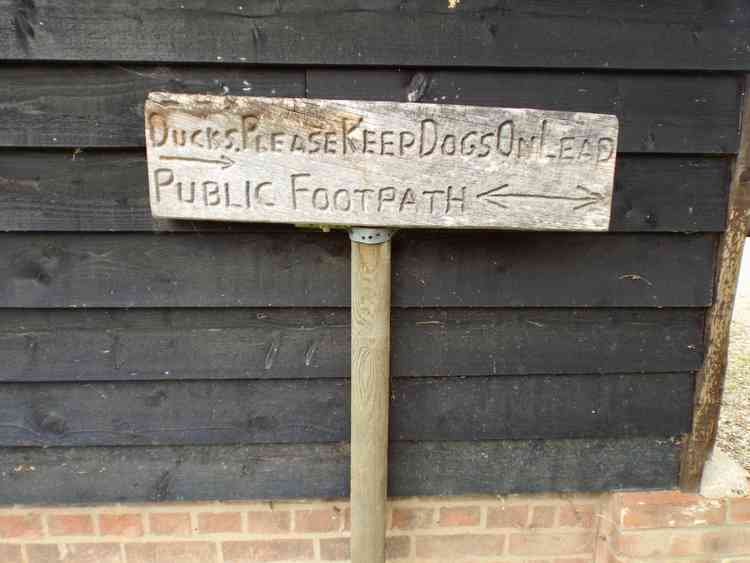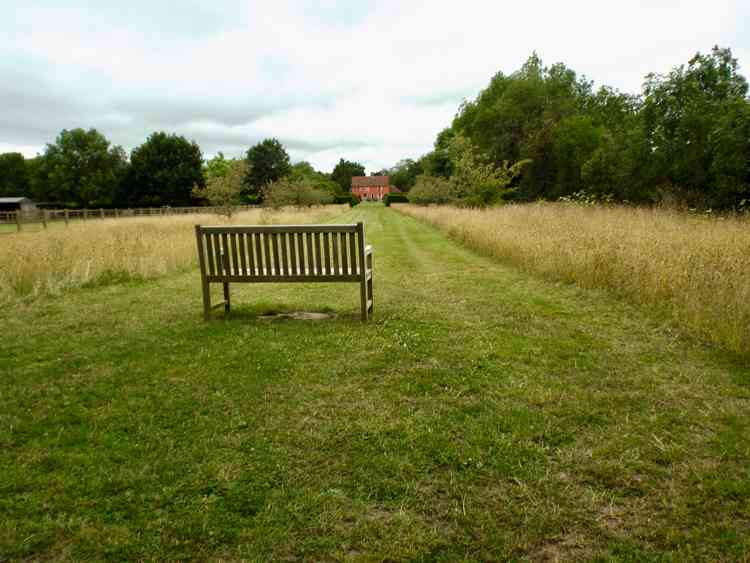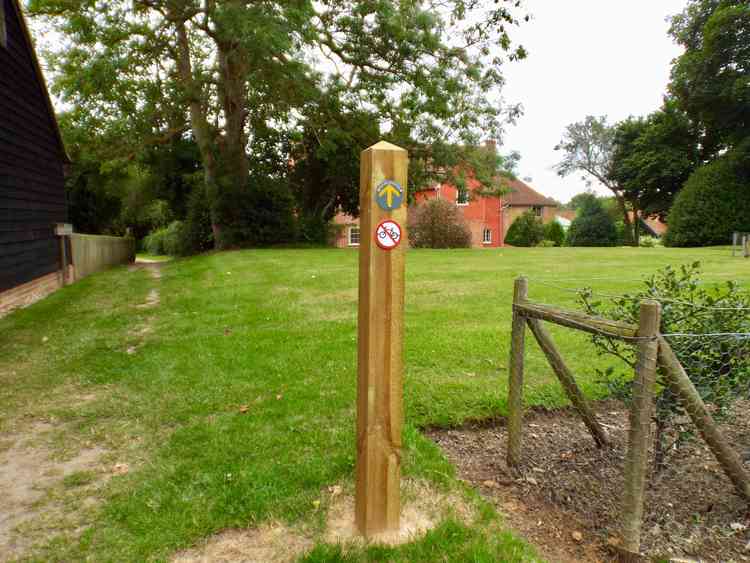 Television star Griff Rhys Jones has become embroiled in a row with cyclists after putting up signs banning them from using a public path next to his peninsula home.
Angered by cyclists, 'rattling down' the path he placed logs across between his garden and the playing fields boundary with the Royal Hospital School to prevent errant cyclists pedalling down there towards the foreshore.
Concerned his grandchild could be hurt by a speeding cyclist, Mr Rhys Jones and his son George placed some logs along the path and applied to put in a couple of kissing gates. The logs were removed, Suffolk County Council refused permission for the gates, so he has placed his own signs along the route.
Mr Rhys Jones used his regular online newspaper column to hit out at cyclists who were using the public footpath more often when the Alton Water routes around the reservoir were closed.
He wrote: "Now, I have nothing against cycles. I know that soon we will be issued with free bikes and Lycra and no one will travel by plane or car any more, because I listen regularly to the BBC. I used to cycle everywhere myself, in London long ago.
"But I didn't puff along exhorting others, or dress like one of those aliens inside spaceships that crash-land in Hollywood blockbusters.
I wasn't a knobbly-legged homunculus, like the scrawny ET who then stopped by my front door near the path. 'Look at this,' he shouted to his mate, who screeched to a halt alongside him. 'They've put them back.'
'Yes, yes,' I said, as I approached. 'This is a garden. There are toddlers here. You are riding a machine at high speed.' (We had now put up a big sign: 'Cyclists please dismount.') He looked at me grimly. 'And by what authority?' he asked sternly.
'Well, er, this is private land.'
'Mm.' He mounted up and sped off. In front of me.
"I was boiling up now. That's it. We would put in gates. Proper kissing gates. I have rights!
"Except it turned out I don't."
While some people supported his actions, the column angered many cyclists with one, British time trial champion Alex Dowsett, responding on Twitter to say: "I wasn't much of a fan of your article in the Mail. Whilst the facts of cyclists being on the footpath I believe to be wholeheartedly true, your descriptions of cyclists are exaggerated; depicting cyclists as 'yobs'.
"The article could've been very different, instead of 'us angels & them villains; how about 'making it safe for everyone to enjoy East Anglia through signs, respect and education' but then I guess the Mail would've ignored your work."
"That won't help is driving a harder wedge in between the divide that the media seem intent on creating. We share this planet, these roads and we all make mistakes. We all enjoy being part of groups/societies/clubs yet we don't necessarily agree with what everyone in them do."
Local cyclists who have been down that area insist they will ignore the signs and continue to use the path. Chris Roberts told Nub News: "While I can understand Griff's point of view to a certain extent, he has no right to use his fame and influence to attack and insult cyclists. Nor does he have the right to try and stop people using the path.
"I do accept we cyclists have a responsibility to ensure we do not conflict with anyone walking up or down that path. Personally I either dismount, or slow right down if I come across walkers and exchange pleasantries.
"Given how cycling is becoming increasingly popular once more, and paths such as the one alongside Griff's house will continue to be used, he needs to be more tolerant. After all, the path was there and being used by cyclists, walkers, dogs and as I understand it, horses, long before he moved here."
In the article, the 66-year-old claimed he was almost hit on the bottom as he bent down to examine some holly by one rider going "at approximately 40mph" on the path, which legally is only for walkers.
Mr Rhys Jones also explained how an ancient permissive footpath that crosses through his land in Suffolk and is regularly used by walkers.
He goes on to say "I worry that my naivety has been exploited by some rather irritating keep-fit cyclists who insist on rattling past even though, according to the Countryside Act of 1968, bicycles should be ridden only on bridleways, not footpaths like mine."
Although fewer riders are using the path now Alton Water has fully reopened, the signs alongside his house remain.