Friday's Peninsula Breakfast Briefing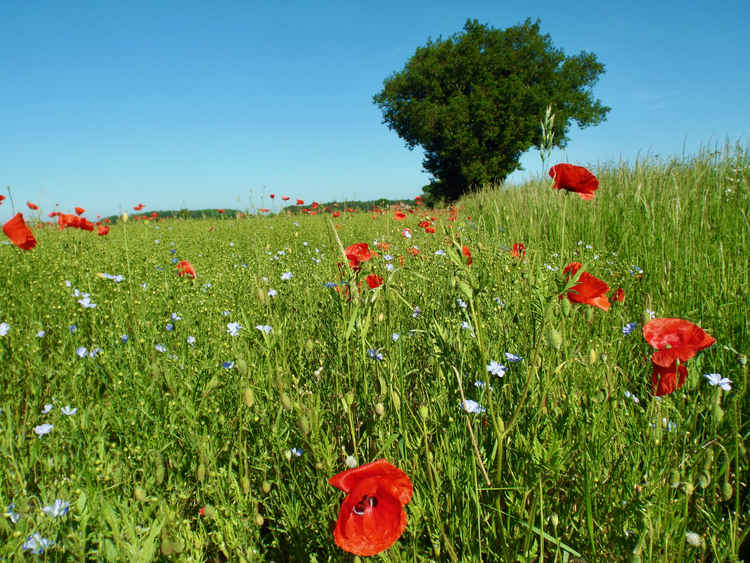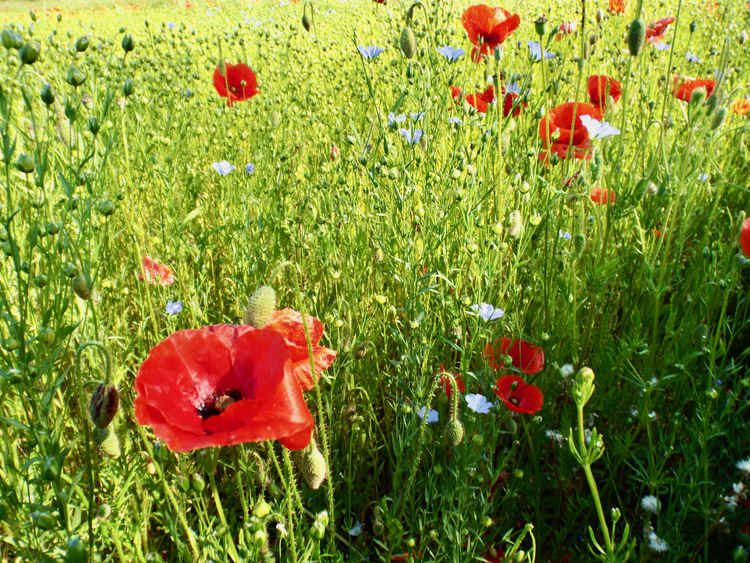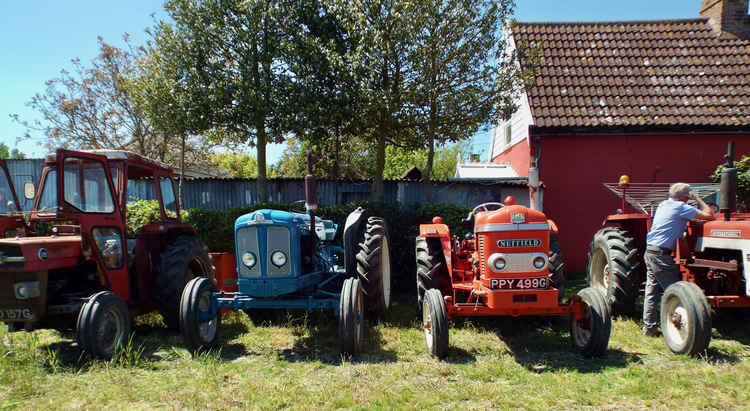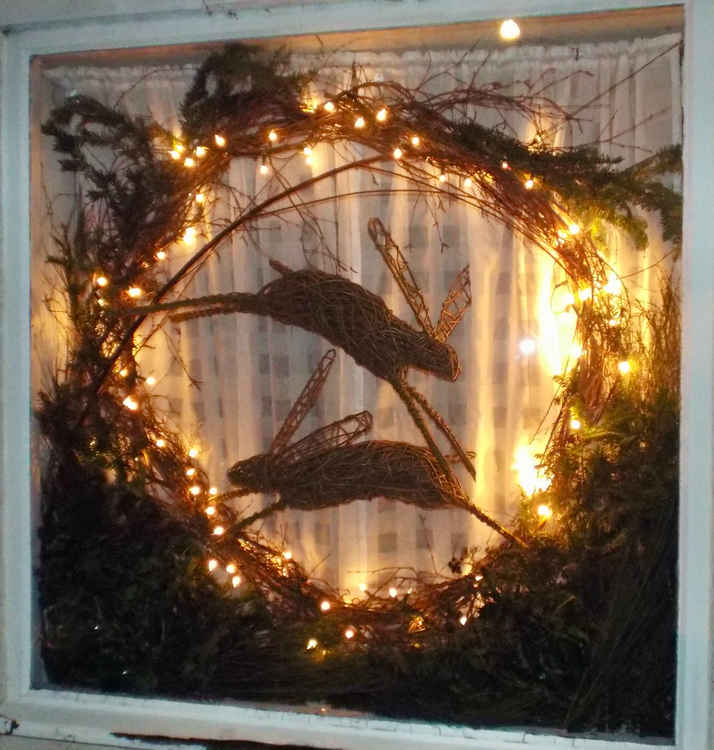 Friday's Fascinating Flower Facts
While the poppy is usually associated with November, and Remembrance, it actually flowers now, as our wonderful pictures from a peninsula farmer's field shows so vividly. Poppies grew so readily on battlegrounds due to the concrete left behind but as the lime disappeared into the soil, so the poppies faded away.
Morphine is created from the milky latex in the seed head of the opium poppy and due to the opiate traces that can be found in poppy seeds, and because of the potential for the seeds to be used to grow opium poppies, they are banned as a food ingredient in China, Taiwan and Singapore. These trace amounts of opiate also mean that eating even a small amount of food containing poppy seed can lead to a false positive on drugs tests. In the 19th century, British horticulturalists who were incentivised by the booming opium trade attempted to establish an opium poppy crop in the UK. Unfortunately for them, it was eaten by a plague of hares that felt no pain.
---
Today's Peninsula sunrise: 04:35
Today's Peninsula sunset: 21:14
---
Tide Times
01:01 3.7m
06:41 0.73m
13:18 3.77m
19:04 0.64m
Good on the Strand
---
Weather:
A dry day ahead, with variable cloud cover and some sunshine. Feeling warm or very warm in more prolonged sunshine. Sometimes breezy. Maximum Temperature 25c, low of 15c.
---
Orwell Bridge:
Open
---
Joke of the day:
A blind man walks into the bakery and asks for eight poppy seed breads. While the baker gathers them for him, he asks: are you expecting any visitors? No, replies the blind man. But I'm going on holiday, and they have such lovely stories written on them.
---
Live travel updates:
Road and rail
Bus services:
97/98 timetable
92 timetable.
Shotley - Harwich - Felixstowe Ferry timetable
(from Monday, March 29)
---
Peninsula Recycling Centre[.B[
Wednesday: 09.00am - noon
Saturday: 09.00am - noon
Bank Holiday Mondays: 09.00am - noon
---
Post Office Openings:
Shotley:
Monday to Saturday 09.00 – 17.00
Sunday: Closed Holbrook:
Mon: 9:00 - 18:00 Closed for lunch 12:30-13:30
Tue: Closed
Wed: 10:00-14:00
Thu: Closed
Fri 9:00-17:30 Closed for lunch 12:30-13:30
Sat 10:00-12:30
Sun: Closed
Chelmondiston:
Mon - Sat: 08-00-17.30
Sun: Closed
Brantham (village hall): Closed
---
Good Neighbours' Scheme
Shotley & Erwarton GNS 07799 873881.
Brantham Good Neighbours(GNS) 07811 630899
Chelmondiston GNS 01473 780408
Holbrook Helpers 0333 335 5387
Stutton Network 01473 327753
Tattingstone 07895052086
---
Updated surgery opening hours:
Holbrook:
Monday, Tuesday and Wednesday 08.00-17.00
Thursday 08.00 - 12.30
Friday 08.00 - 18.30
Shotley:
Monday, Tuesday, Wednesday and Thursday 08.00 - 18.30
Friday 08.00 - 12.30 The dispensary at both sites will be closed between 13.00 -14.00 daily for admin.
Call Shotley 787435 or Holbrook 328263 for appointments.
Some restrictions will still be in place, such as only three people allowed in the waiting room at any one time, and patients are asked to be patient and wait outside at busy times. Good neighbours schemes are supporting patients to get prescription if they can't attend the surgery. Call 111 for emergency medical matters. Citizens Advice Bureau phone advice for patients at Shotley, Holbrook and East Bergholt surgeries
00 - 15.00
Tuesdays: 07384429361
Wednesday: 07586741250
Thursday: 07379202164
---
Today's food shop openings:
Stutton Community Shop:
Monday - Friday: 09.00 - 16.00
Saturday: 09.00 - 12noon.
Sunday: 09.00 - 11.00
Premier Stores Shotley:
Monday - Saturday: 08:00 - 21:00
Sunday: 09.00 -14.00
Premier Stores Wherstead:
00 – 21.00
Orwell Stores, Chelmondiston:
Monday - Saturday: 08:00 - 17:00
Sunday: 08:00 - 13:00 Woody's Butchers: -
Tuesday - Friday: 09:00 - 17:30 (closed for lunch 13.00-13.45)
Saturday: 09:00 - 16:00
Sunday: Closed
Monday: Closed Hollingsworth's:
Monday - Friday: 8:00 - 17:30
Saturday: 8:00 - 17:00
Sunday: closed
Holbrook Co-op:
00 -23.00
Brantham Co-op:
00 – 23.00
Suffolk Food Hall:
30 – 17.30
Please wear a cloth face covering, respect social distancing rules and treat shop staff with respect.
---
If you have any suggestions for inclusion please email
[email protected]
This also includes anyone who want to send us a photo to use, we are always happy to credit the picture with your name.