Coronavirus pandemic: Holbrook Leisure centre and Shotley pop up set to close from Friday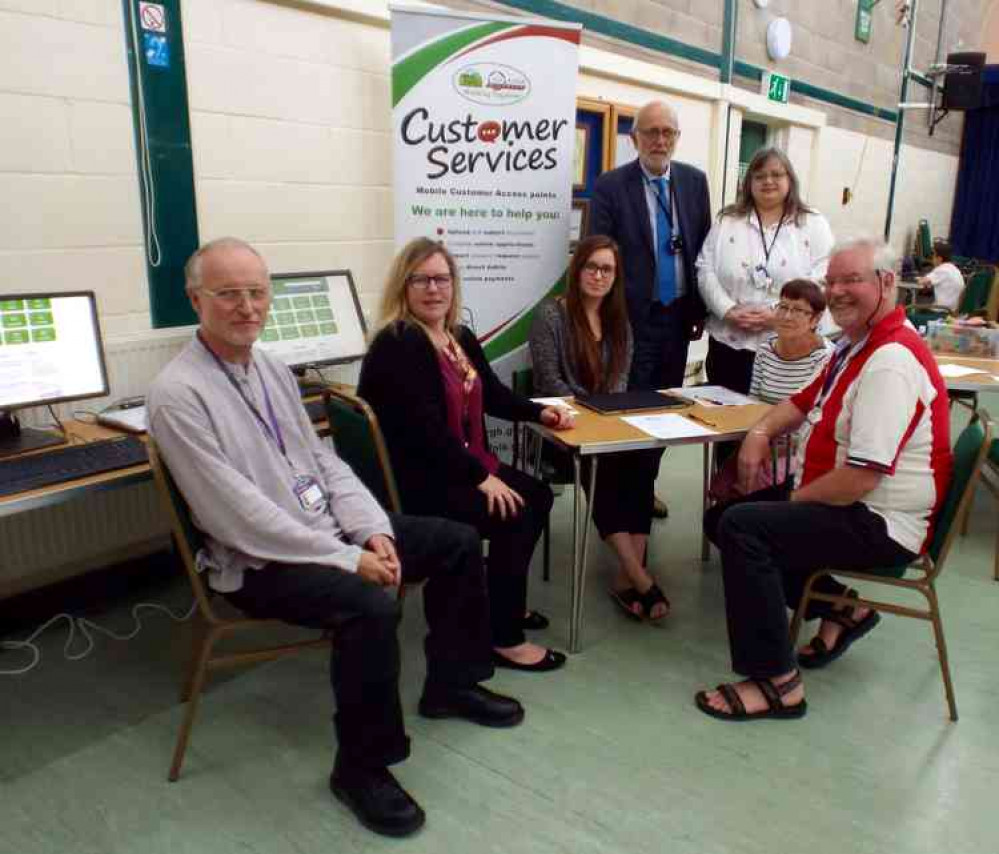 Babergh's customer service pop up at Shotley library
Holbrook leisure centre and Babergh's monthly customer service pop up facility at Shotley are among the casualties, as the district council announced a range of measures to protect services, communities, councillors and employees over the coming weeks.
The moves include cancelling all council meetings for March and April, with the council exploring alternative ways to allow democratic council decisions to continue to be made in the meantime.
Holbrook leisure centre will close at 4pm on Friday, while Kingfisher swimming pool and leisure centre in Sudbury and Hadleigh pool and leisure will also close to the public on Friday, March 20, following conversations with Babergh's partners at Abbeycroft Leisure.
A spokesperson for Abbeycroft Leisure said: "We have been working hard behind the scenes to ensure that as soon as we are back open members can start enjoying their weekly workout again, with minimal delay, and so memberships will be frozen for all members.
"The benefits of freezing memberships includes:
-It's simple and there's nothing for you to do as we will automatically freeze it.
-Retain your current direct debit rate when you return
-No joining fee when you return
-You will be exempt from our one-month cancellation notice which is part of our T&C's.
"All members have been emailed and do not need to do anything, as their memberships will automatically be frozen from April and annual paying members will receive extended membership once the centres are reopen."
In line with Government advice, Babergh chief executive Arthur Charvonia has instructed all councillors and officers in high risk groups to self-isolate and all officers to work from home if they can, although this obviously isn't possible for everyone and precautions are in place around social distancing and hygiene across all the offices and sites.
The district council is committed to keeping council services running for communities in the meantime by adopting special business continuity measures across our teams.
This may mean a change in the way Babergh works – reducing face-to-face services, such as the pop-up Customer Access points in Hadleigh and Shotley for example, or replacing visits by telephone calls – but officers are still available to help and support people by phone on 0300 1234000 and via the website.
Employees visiting people's homes, for example, tradespeople carrying out work and essential repairs in council houses, will be following strict social distancing guidelines and hand sanitisation, and may ask a few additional questions before entering customers' homes – in order to protect both them and the tenants.
The council is also exploring ways to support communities and businesses in Babergh over the difficult weeks ahead, in line with the package of new financial measures for individuals and businesses announced by the chancellor this evening.
The next customer service pop up was due at the village hall on Monday, April 6 but that has been cancelled and the weekly library, run bu Suffolk Libraries, is also in doubt.
Peninsula councillor and Babergh cabinet member Derek Davis said: "These are difficult decisions but we need to look at the bigger picture.
"It is a desperate situation for many businesses and organisations, and while I recognise the importance of trying to maintain a semblance of normality, anything we can do as a council to protect the vulnerable is vital."
Babergh District Council leader Cllr John Ward said: "The important thing now is for our councils to work together with our communities to ensure the safety of residents and our staff and to keep our services running.
"Our councillors and officers are doing everything possible behind the scenes and, although we may need to work differently to deliver our services, we ask that the public understands and works with us during this time."