Chairman excited as revitalised Rangers set to return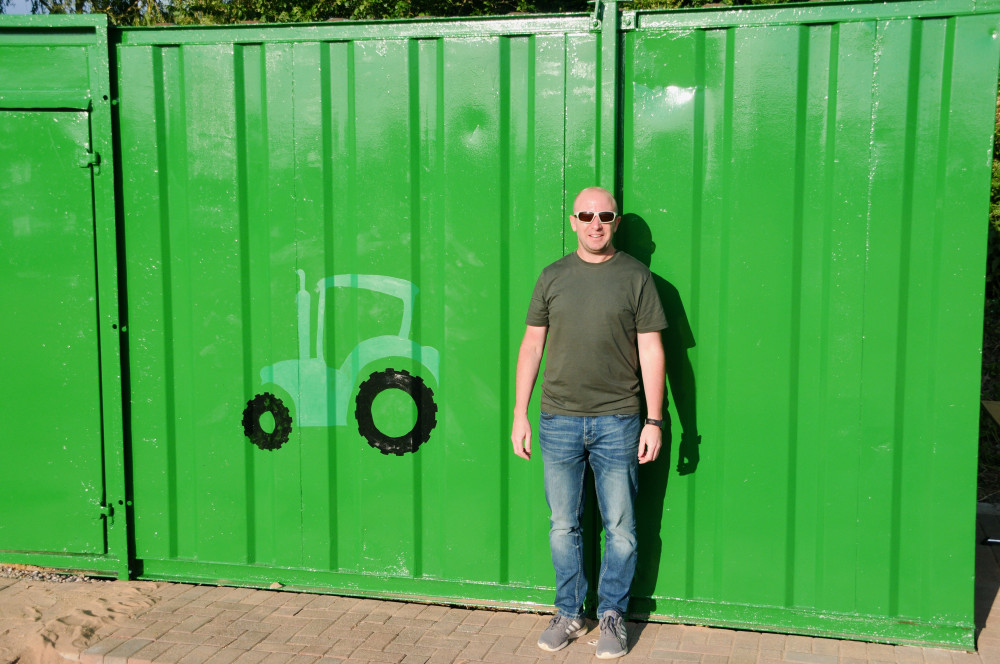 Shotley Rangers chairman Dan Hart with newly painted club logo (Picture credit: Peninsula Nub News)
It is little wonder that with a family connection going back almost 40 years that a peninsula youth team chairman is thrilled at the rebirth of his club.
Dan Hart, who followed in his dad Brian's footsteps to play, manage and coach at Shotley Rangers, and then see his two sons Oliver and Luke wear the green and white, can barely contain his excitement for the new season ahead.
After a hiatus of more than five years, Shotley Rangers has been re-affiliated with the Suffolk FA, and will find out next week if their under-nines will be admitted to the Suffolk Youth Football League.
"It is a massive thrill," said Dan. "It is fantastic that such a big village will be having a meaningful club for our youth players once more.
"Shotley was the best team of all of the villages on the peninsula. I'm not saying we will get back to that level but even just being able to play against them will be terrific after all this time.
But while Dan is a fully qualified coach, leading Brantham to the FA Youth Cup last season before going out to professional league side Stevenage, he will be leaving the coaching and managing side of the younger teams to willing and enthusiastic mums and dads.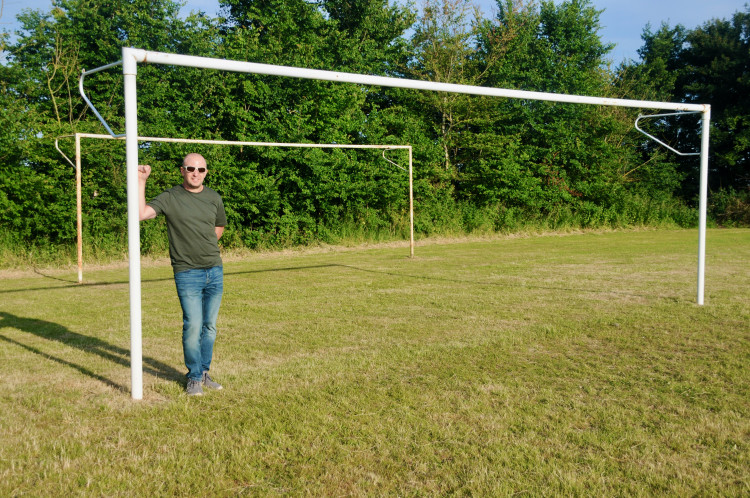 Dan secured new goal posts Rangers pitch (Picture credit: Peninsula Nub News)
Dan admits the fresh impetus has been provided by new volunteers Kaileigh Bridges and her husband Gary, along with Craig Baker on he committee, and it has meant the club forging ahead on and off the pitch.
He said: "This new influx of parents and volunteers we have got are amazing and they are the ones driving us forward now.
"I have driven it in terms of getting the itch level but these guys have taken it to a new level.
"We got the new posts from Brantham Athletic, my dad brought them from Raydon on his boat trailer, and myself and brother Matt concreted them in and have been filling in rabbit holes to get the pitch playable," said Dan.
"There has been a lot of work going on in the background to get the lacy back up and running but since Kaileigh and Gary got involved it has gone crazy."
The plan is to introduce small sided teams of boys and girls aged from five upwards, with training and friendly matches for those teams not in a league.
Even though Dan has also coached Suffolk's County under 16s team and played at a decent level himself, Rangers has special place in his heart and is delighted to see the phoenix rising from the ashes.
The raft of new sponsors has meant the club has been able to secure new training equipment and kit for the various teams, with the under-nines the flagship side for now.
Dan added: "I have never known anyone like Kaileigh to be able to pull in sponsorship the way she has done."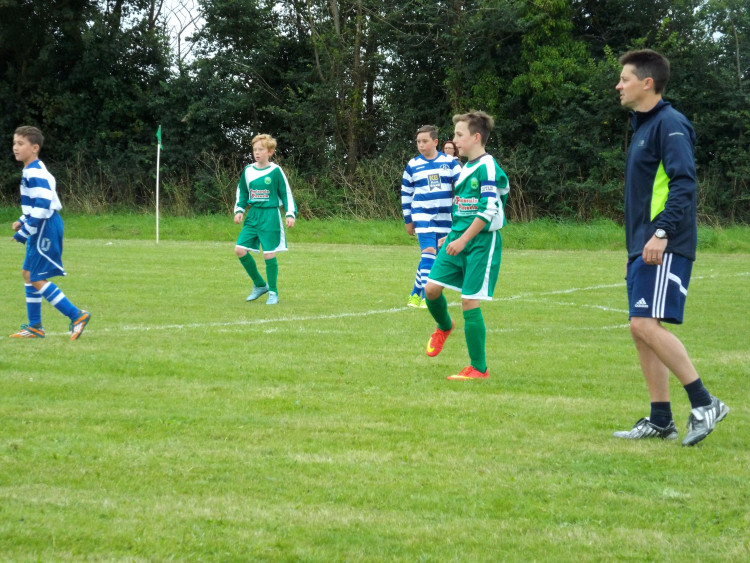 Aiden Webb (captains arm band) among former young players looking to help out with coaching (Picture credit: Peninsula Nub News)
He also paid tribute to a number of behind the scenes helpers, including groundsman Richard Jackaman, along with Ian Peters, Kieth Parker Gary Richens and Gareth Holder.
Kevin Strike who used to manage a Rangers team back in the 90's trimmed the hedgerow in the winter.
He also gave nod to Sarah Millan, whose son Thomas played for Rangers, who stepping down as treasurer and will be replaced by Natasha Jackson.
He said: She has been superb for many years and I want to thank her for all her help.
"Without a doubt if you don't have enthusiastic parents a club fizzles out but these have excellent ideas for all the age groups. It is all about community and family."
Dan has recently been going through his archives and posting pictures of former players including Arthur Peters, Jamie Barwick Merv and John Webb, Nathaniel Mullett and Nicky Lee.
Merv Webb's son Aiden played as a youngster and is among the that have volunteered to come back and help with the coaching.
All coaches will be given DBS checks with some also getting their coaching badges.
But Dan insists at this level the clubs focus will be kids just wanting to have fun.
He said: "It is about enjoyment and development at the younger ages, there is time to be competitive once they have learned.
"At the younger age groups it is about playing with friends, getting game time, being involved and having fun."
*If you would like your club, group or organisation featured contact the editor: [email protected]
Or add your news article, reader's letter, picture or newsletter by using the black Nub It button on the news home page