Up Close with Peninsula vicar Annette Shannon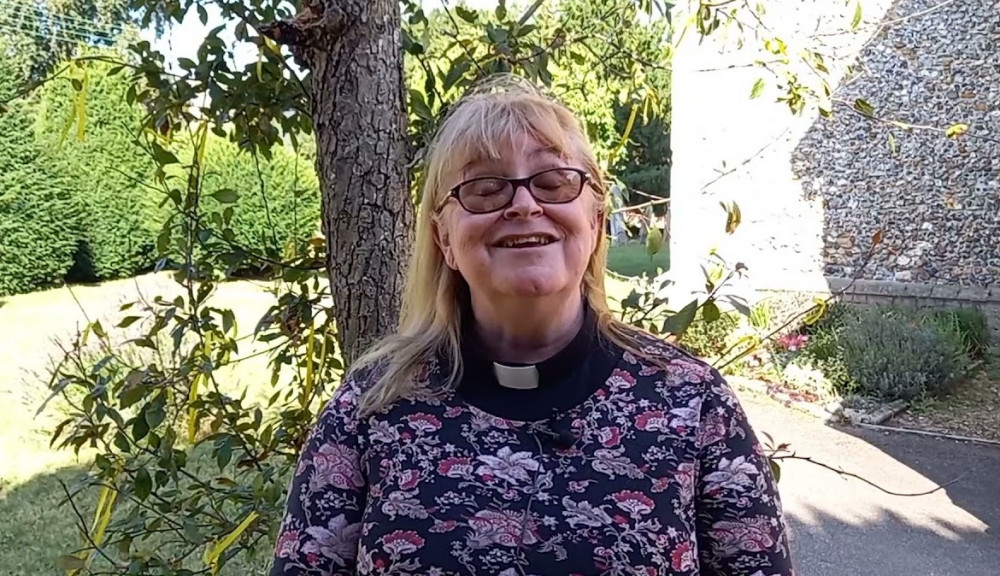 Samford Messenger's Brian Rogerson gets Up Close with the Rev Annette Shannon, Tattingstone vicar and the rural dean and rector of North Samford Benefice.
Annette's aim is to move among a variety of parishes and cathedrals in the west of the country and thereby gain inspiration and renewal for tasks ahead. It comes at the present end of a remarkable journey that commenced in Enfield, London, where she was born, and then to Knebworth, Herts, where her family moved when she was seven years old.
Annette said: "My parents were both originally Sunday School teachers, but who gave up going to church prior to me being born – and in fact they never got round to introducing me to church-going during my childhood."
Annette never learned exactly why her parents had a volte face about the church, but she experienced a gradual introduction to religion by joining the Brownies and Guides when they had occasional church visits.
Moreover, she had an auntie who lived nearby who proved more proactive than her parents in taking her along to the local church.
St Mary's Tattingstone (Picture credit: Peninsula Nub News)
Love of psychology
Following local primary school, Annette graduated up to Stevenage Girls School in its very first comprehensive intake.
She laughed: "Previously it had been a grammar school but now there was a far more varied social mix of pupils."
Not a keen sportswoman, Annette however loved learning, and after achieving her A-levels she went up to Hatfield University to gain a degree in psychology – a subject she had always enjoyed and now sought to teach.
At the relatively tender age of 21 she and David (whom she had earlier met at university) got married in 1982 and set up home in Stevenage.
The shortage of funds meant that ownership of a car was not a reality at this stage so the couple commenced married life travelling around each on their own motorbike. "I remember my bike with great fondness," she smiled, "it was a Yamaha YB100."
After a move back to Knebworth, Annette left college and started teaching post-16-year-olds at the Further Education College.
"My pupils' ages actually varied significantly." she explained, "and were anywhere between 16 and 60 years of age. There I taught elements of psychology as well as O-level English."
Annette's son Nicholas was born in 1985, followed by daughter Charlotte in 1987and son Alexander (Alex) in 1992.
The move to ministry
She added: "As a result of David's career extending further to the east, we moved to East Bergholt.
There my daughter joined the church choir and I would go along to support her." However, it was not until Annette was approached by a parishioner with the words: "We really want you to come to our Alpha Course," feeling it a personal call, that she became drawn seriously towards the Church of England.
At St Mary's East Bergholt the priest was the well-liked John Druce and soon Annette found herself running the Sunday School and the Youth Group.
Then Annette applied for and landed a "plum" job teaching A-level students psychology at the esteemed Colchester Grammar School. She said: "Before long I was teaching the subject to nearly one third of the sixth form – I thoroughly enjoyed the challenge of teaching at such a level – but in contrast I also enjoyed teaching children under the Youth Training Scheme."
Leaving such a prestigious career was not to be taken lightly. Annette was increasingly drawn towards the church and faced a two-year struggle to come to terms with what she believed God was calling her to do.
Attending an Alpha course assisted in the decision-making process as did Sharon Swain the then Rural Dean. "Having made the decision," she stressed, "I became much calmer."
A first posting – and first woman incumbent, nevertheless Annette still faced the challenge of "learning from a distance" since she was unable to simply desert her growing family and opt for the more preferential residential training.
The Eastern Region Ministry Course was run by the Cambridge Federation and Annette stuck in and finally got ordained in 2006.
An initial urge to return to Hertfordshire for her first ministry was resisted and so her first post was as the inaugural woman incumbent in North Samford benefice – with responsibility for some six churches.
"I really liked it here," she said, "and especially enjoyed the opportunity to meet a wide range of people."
Annette brings to her ministry knowledge of how to delegate to others and thereby to encourage and coach lay members of her congregations to grow in faith.
She added: "You also learn from other people that way."
Growing grassroots-upwards
In January 2022 Annette was appointed Rural Dean for Samford Deanery. She explained: "I know that I can work well with all my colleagues. I inherited a good team and the pandemic has had the effect of bringing us closer together.
She has no illusions about the task she has taken on as the Church of England faces a range of major existential challenges. Nevertheless, acknowledging the stressful nature of the tasks ahead she firmly believes that future church growth will of necessity need to come from the "bottom upwards".
Annette's husband David is a Managing Director of an engineering company based locally. What little time she has after caring for six benefice churches (and now overall responsibility for 19 in the deanery!) she enjoys painting in watercolours and inks, also "any kind of craft work and looking after my two cats and two Labradors Daisy and Yukkii (Japanese for white)."
She tries once a year to visit her son Nicolas in Singapore where he is a surgeon.
A vision for the deanery
Annette Shannon has a vision for her Deanery which includes a variety of actions including sharing resources,
"it's the only way we can survive", and recognising the underlying value that many non-churchgoing people have towards their churches as places of celebration, festival or merely a place of peace in an increasingly dysfunctional and hectic world.
There seems no doubt that under Rev Annette's direction and mentoring, Samford Deanery has the best chance of surviving in the form of a workable and worshipful unit for the future – no matter how revolutionary the impending changes may be.
This feature by Brian Rogerson first appeared in the Samford Messenger newsletter
*Send Nub News your articles, letters, updates, newsletters or pictures by using the black Nub It button on the home page. Or go to the What's On page to upload your events on the black button there. Both are free and easy to use.