Lessons learned as Imps throw away points
---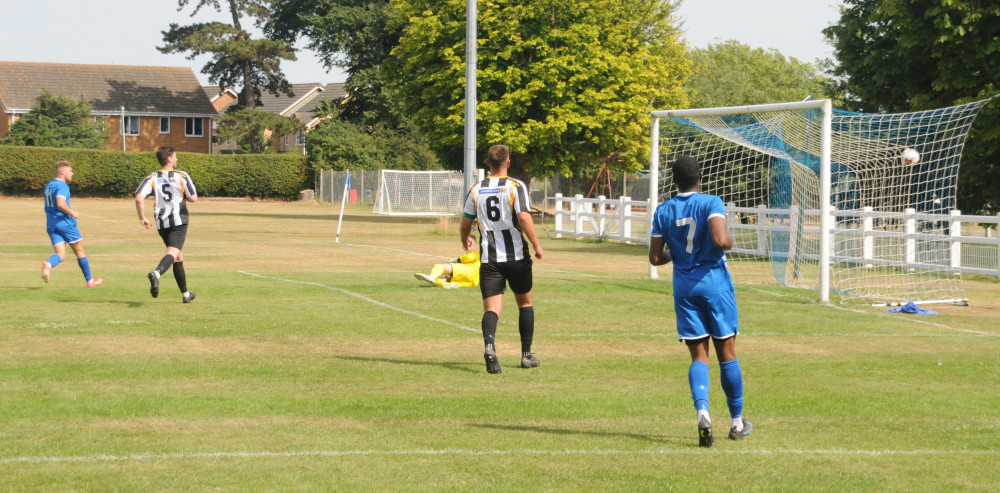 Tom Watkins celebrates 50th Imps appearance with goal (Picture credit: Peninsula Nub News)
Brantham boss Pip Boyland pulled no punches after his side snatched defeat from the jaws of victory in the season opener at their Leisure Centre ground.
Clinging on to their first half lead through Tom Watkins, Brantham were hit with a double whammy as newly promoted Harleston Town levelled through Nathan Page, then forced in a late, late winner deep into time added on as Ollie Ebbage nodded in.
Although a draw would probably have been a fair result given Danny Crow's, the former Norwich City, Cambridge United and Peterborough front man, side more than looked comfortable at Thurlow Nub Premier Division level after winning promotion via the play offs.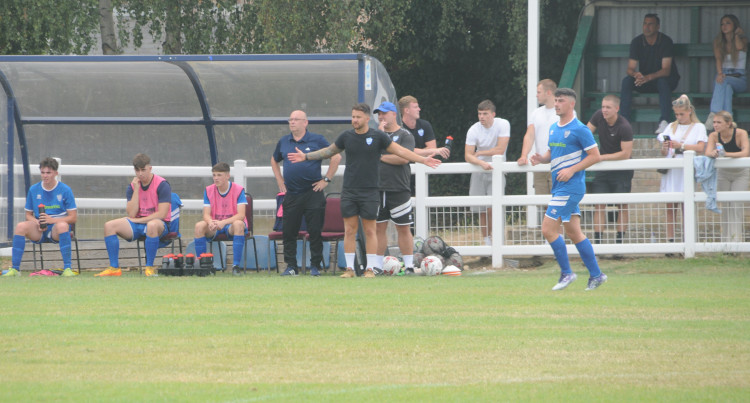 Imps boss Pip Boyland shows frustration (Picture credit: Nub News)
It was galling for Boyland who was frustrated that his players did not stick to the game plan developed over the break.
"It was a difficult one to take really," said the Imps manager who steered to them to safety last season after taking over from Michael Brothers in January. "It was nothing like what we have been doing in pre-season, what we have been rehearsing and concentrating on.
"They put is under pressure and we could to deal with it, as simple a that.
"They worked harder, and that surprised me because all we have been working on is working hard as a collective and they stopped doing the things we wanted to do, and we stopped ourselves from doing what we wanted to do."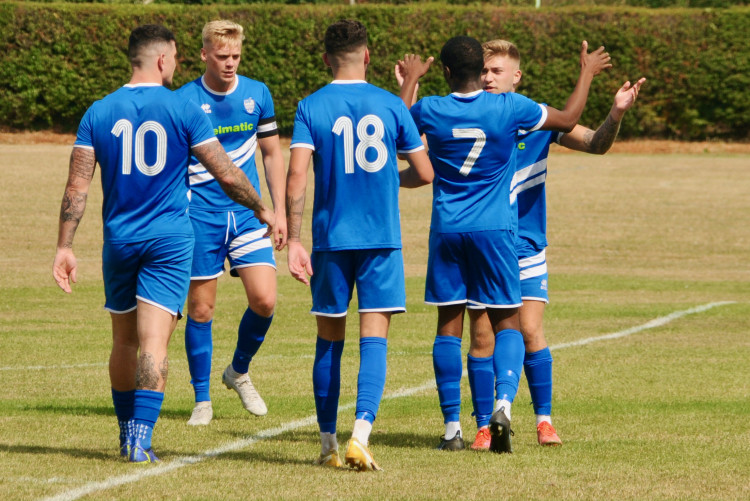 Watkins celebt=artes with Jose santa De La Paz (7) who provided assist (Picture credit: Nub News)
Brantham took the lead after superb work down the right flank from Jose Santa de La Paz, signed permanently after a loan spell from Needham Market's EJA side.
He turned the defender inside out before playing a simple ball across the box for Watkins to bang in from 12 yards and mark his 50th appearance for the Imps in style.
"It was a good goal and that is exactly what we are about," said Boyland. "That is how we want to play football, but it was the only time we did it."
Unfortunately Brantham rarely troubled the Town keeper again as Harlseton bypassed the midfield. then went long, forcing Brantham to concede cheap free kicks, throw ins, and most crucially - corners.
Matt Walker, a summer signing from Coggeshall, who impressed against the Imps while on loan at Long Melford and keeping a clean sheet against Brantham last season, made a couple of good saves, especially pushing away a low Ryan Crisp shot in the first half.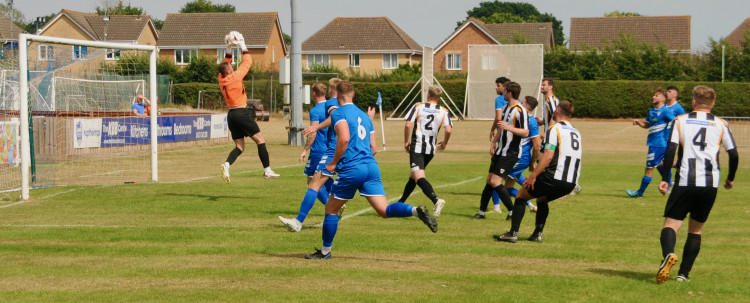 Keeper Matt Walker made a couple of good saves (Picture credit: Nub News)
But both goals came from set plays and the Imps defence failed to deal with the wide balls into the box, the second in particular was poor as Harleston were allowed two free headers before scoring.
"I'm disappointed we conceded so late on, I'm not sure where the referee got all that extra tome from but that is not an excuse," said Boyland.
"It is the first one of the season and we can see we have a lot to work on.
"That was difficult because we have rehearsed all that so we will have to review that.
"We had a long chat working out what why we came away from the work rate, how we wanted to play. All the things we wanted to do, wehat we discussed, just didn't get done, it was non-exsistant."

Late, late goal (Picture credit: Nub News)
Brantham must now pick themselves up for their cup tie against Basildon on Tuesday and Boyland sees that as part of the learning curve.
He said: "We are a new, young, fresh side so we will work hard and we will learn about each other and some players will learn about them selves and what is needed at this level.
"Players need to learn they are doing the things that the team requires, it is no good going off doing your own thing, it doesn't work.
"Harleston are good example of that. They stuck together did it as a team. worked harder than us, they knew their strengths and kept to that and kept going right to the end.
"We had good pre-season with good outcomes but this was not the disciplined or hard working performance I was hoping for. It is the first game so it was frustration, all we can do is look at it."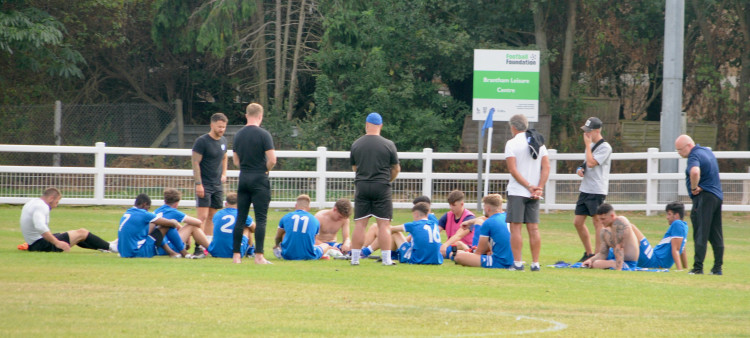 Constructive debrief after defeat (Picture credit: Nub News)
Brantham suffered another set back when left back Alfie Owen Jones tweaked a hamstring and joins Asa Milliard and Michael Saikly.
Meanwhile, Brantham Premier division rivals Hadleigh went down 3-2