Rain desperately needed as series of fires strike peninsula
Suffolk firefighters quickly extinguished a fire in Wherstead overnight.
Tw crews from Ipswich went to Redgate Lane at just after 3am this morning and were able to stand down within an hour.
That shout came hours after two huge blazes in the area, sapping resources in the county and needing help from Essex Fire Service.
Eleven fire crews spent six hours fighting a blaze at a farm Chelmondiston after initially being called out to Lings Lane at 3.30pm.
With many other crews already deployed, appliances were called in from as far as Colchester, Wivenhoe, Woodbridge, Orford, Aldeburgh, Southwold, Halesworth, Debenham, Needham Market, Hadleigh and Ipswich East.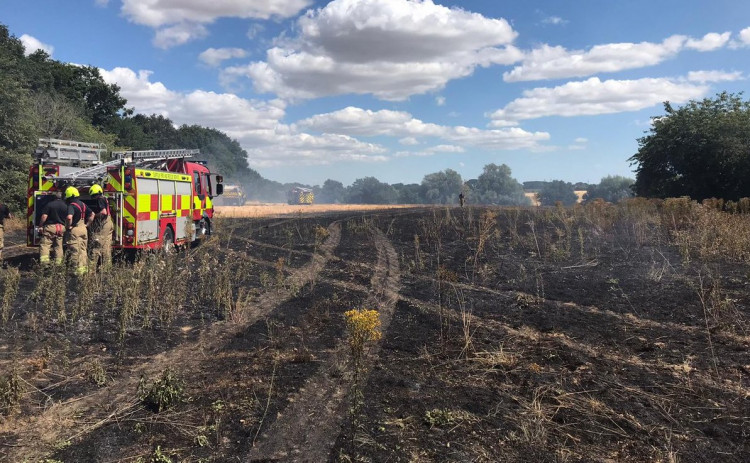 Holbrook among crews fighting acres of field fire (Picture credit: ECFRS)
Meanwhile, Holbrook firefighters were among 12 appliances called to a blaze at East End.
Crews from Colchester, Ipswich East and Princes Street, , Woodbridge, Felixstowe, Needham Market, Hadleigh, Nayland, and Sudbury spent more than eight hours tackling the large fire, which covered acres of land.
Some out buildings and sheds were destroyed in the fire, but crews were able to prevent the blazing speeding to nearby homes..
One member of the farming fraternity said: "We desperately need rain. One inadvertent spark can set a field alight in seconds, similarly with storage, peoples hard work are going up in smoke before our very eye."
However, according to the met Office, no rain is predicted on the Shotley peninsula at all this week or next.
video coverage by Holbrook drone pilot Luke Macaulay.