Pip pulls no punches after Brantham lack passion in Hadleigh defeat
---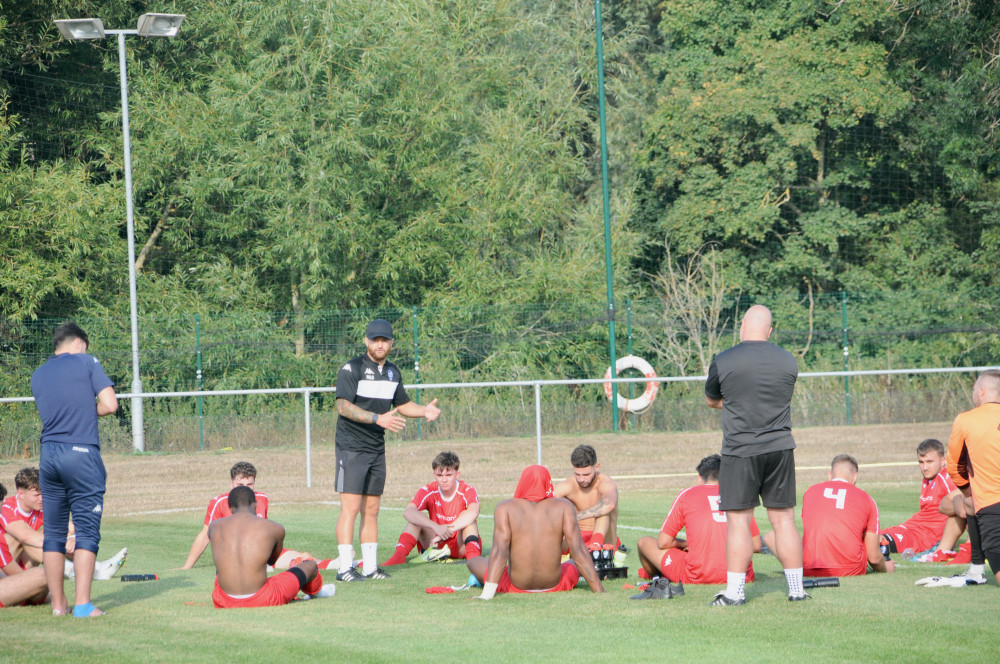 Players heads bowed as Pip Boyland delivers post match message (Picture credit: Nub News)
If you are not going to show passion, then there is no point in even turning up.
That was Pip Boyland's blunt assessment as his Brantham side were out-fought and out-played in a 3-0 defeat at Hadleigh.
The Imps were three down by half time, when former Brantham player Regan Pelling his first two goals for his new club, with Ethan Mayhew getting the first.
Boyland gave his chastened players are long dressing down on the pitch after the defeat and warned he will not hesitate to move players on and bring new new in if there is not a swift improvement in attitude.

Brantham keeper Matt Walker in action against Hadleigh (Picture credit: Nub News)
"They had more passion, more desire, than we did, which is unusual for us," said Boyland.
"We had a chat about the passion and we said, there is no point putting yourself through season if you don't have passion or desire to have an impact.
"However, that is the first time I have seen it this season because usually we put up a fight, but take four of five players out and we lost that stability.
"You need experience, or at least passion, desire and hunger to win football matches and if you don't have that, this is what happens.
Brantham were not helped when an early injury to Michael Shaikly disrupted their fluency, and on top of other players missing, it proved too much.
Boyland said: "We have a few players away on holiday and a couple of injuries but I don't want to blame anyone for that because we have good squad.
"Losing Shaiks early on summed it up. When you lose five experienced players it is too much."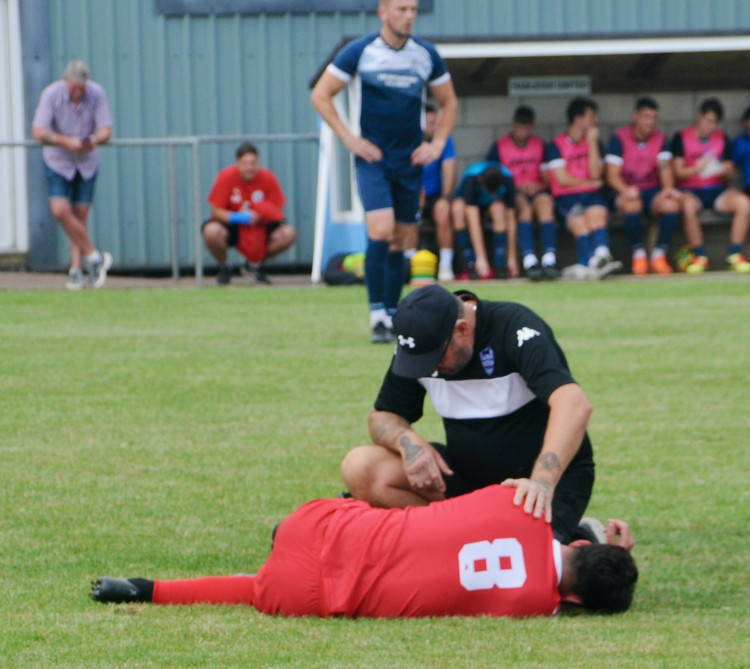 Michael Shaikly big loss after landing badly on ankle (Picture credit: Nub News)
Pelling's first for Hadleigh was sublime finish when he spotted keeper Matt Walker off his line and hit a half volley from outside the box, his second on the strike of half time was helped by more good work from Sands.
"We were huge disappointed with their goals. said Boyland." They were good finishes but we let them have them.
"A coupe of mistakes on our part and they showed quality in taking their chances.
"It seems that is the road we are going down at the moment, allowing team chances. Nevertheless, second half we could have had three goals.
"Asa with a point blank header, Jose got in a few of times but could not find the finish, and that was the difference, Hadleigh took their chances."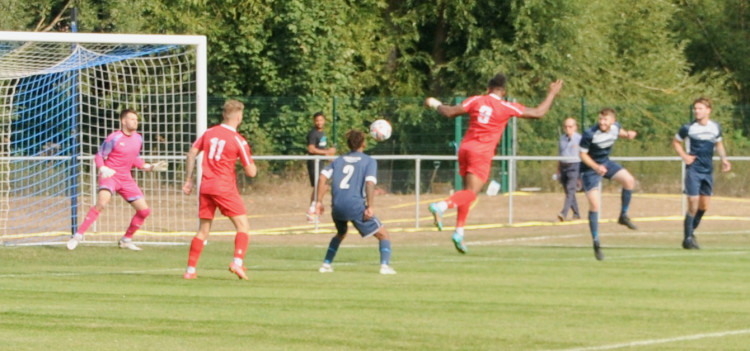 The win pushed Hadleigh into the top 10 of the Thurlow Nunn Premier Division leaving manager Holder was purring at his side's overall performance and how the new relatively new players complemented his core team.
Holder said: "We have a good team and no disrespect to the likes of Long Melford and Walsham but if we have all the play and possession but can't put the ball in the net, we needed to change that.
"We have done and it has worked today..
"That is football, we are not going to win every game but you have better chance of you have payer that can hold the ball up and keep it in their half longer."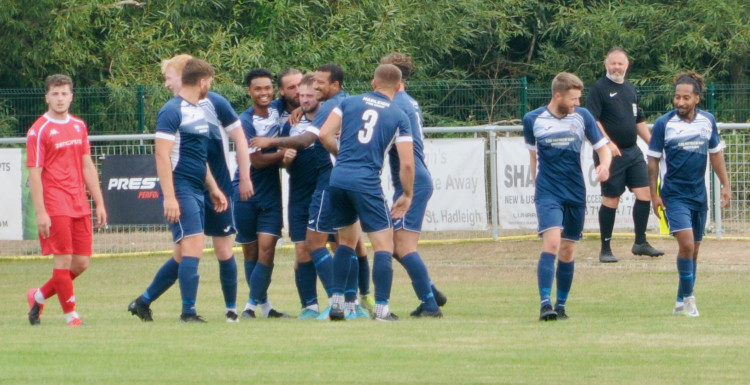 Regan Pelling surrounded after spectacular first goal for club (Picture credit: Hadleigh Nub News)
With Joel Glover on his way to Ipswich Wanderers, Sands has been been brought in and out in a good shift as the big man up front and weighed in with assists for Mayhew and Pelling.
Sands tweaked his groin in the warm up but insisted he wanted to play and got two assists and headed the ball into the danger area fort Mayhew to finish following good work down the right from attacking full back Lloyd Clark..
"Sands did very well." said Holder. "We have missed that point at the top to hold the ball and feed players in.
"You could see that in the first half, even with one leg he was playing players in and got two assists."
Brantham struggled to deal with Hadleigh's intensity and although they huffed and puffed, never really troubled Nick Punter.

Ethan Clarke free kick (Picture credit: Hadleigh Nub News)
George Bowman hit a post from a set piece and Walker in the Brantham goal ensured the scoreline was not even more embarrassing.
Holder said: "We knew they would come at us second half but the game was pretty much won by then. We had to stay organised as we were first half.
"They had half chances, but so did we and hit the woodwork late on."

Mayhew back of the net (Picture credit: Hadleigh Nub News)
Boyland warned his young squad needed to respond quickly, starting at home against Whitton United on Tuesday night.
He added: "We want results and we have young squad and they have to learn what we are about and buy into that.
"We will bring new players in if we have to. There are always discussions going on but I want to give these boys a chance to prove they want to be here. If they don't then we will wish them all the best.
"I will fight their corner but they have to fight it themselves too. There is no place to hide on the pitch and what I'm seeing is some are not fit enough, which is surprising."

Regan Pelling (Blue 11) netted twice (Picture credit: Hadleigh Nub News)