Boss pleased with performance as Imps pipped in cup
---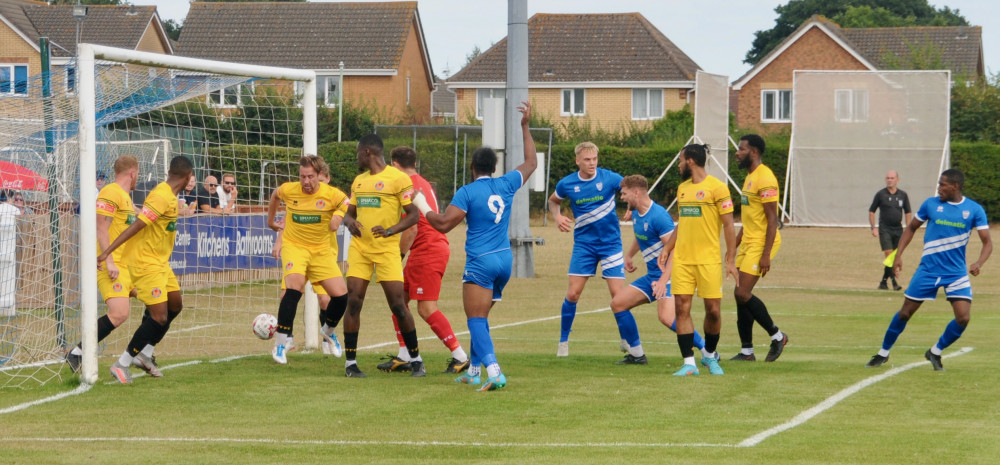 Brantham denied as ball cleared off the line (Picture credit: Peninsula Nub News)
Pragmatic Pip Boyland admitted being disappointed with Brantham exiting the FA Cup in the preliminary round at the hands of Witham but praised his players for their performance.
Witham, who play in the isthmian League, one level about the Imps, won by a single 70th minute Shakeel Morris goal, who banged in with his first touch after going on as a substitute.
But not before Brantham ran them close with a last minute effort coming off a post, and first half effort cleared off the line.
Brantham finished strongly with Tom Watkins lobbing the keeper and hitting a post but could not follow up.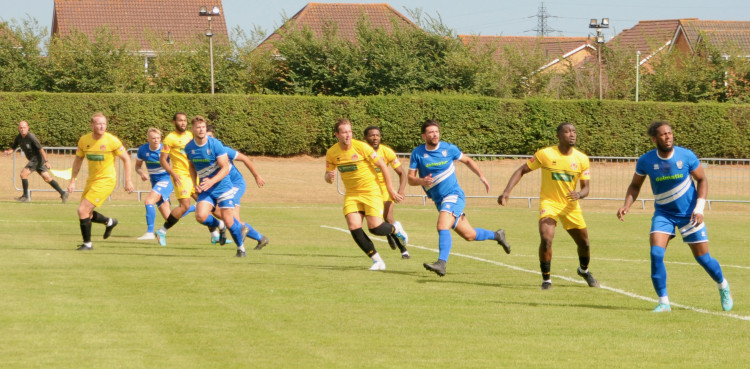 Imps on the attack (Picture credit: Peninsula Nub News)
Boyland said: "It was another positive performance.
"We knew Witham would be tough. They are a Step Four side with bug strong lads so I felt we did really well.
"Once again it is about concentrating for the full 95 minutes."
Brantham played well in patches, splaying the ball wide for Jose Santa De La Paz and Tom Watkins to get at their full backs, while Michael Shaikly and Asa Milliard menacing, supported by skipper James Lee.
But Witham were patient and pressed dangerously. Matt Walker was solid in goal but was exposed when Brantham failed to deal with a long throw and the sub pounced.
Boyland said: "We knew they would get the long throw into the box, we prepared for that, but we gave too many away and you can only do that for so long.
"We didn't on to the second ball and that cost us.
"Other than that our boys were superb. They didn't get trounced and they showed they can compete against a Step Four side. The game was faintly even and we almost scored at end hitting post.
"It was about who told their chances and Witham took theirs."

Shaikley (10) back for Brantham (Picture credit: Peninsula Nub News)
Another positive for Brantham was to see Shaikly back in the number 10 shirt, after Matty Hayden joined Wroxham, Brantham pressed hard in the first half.
"It was good to get Shaikly back," Boyland added. "He has the quality, it is about getting his fitness back."
Brantham for to Haverhill midweek in the league, then entertain Basildon next Saturday in the FA Vase, after already beating them 3-0 in the previous FA Cup round.
*Meanwhile, newly promoted Woolverstone United started their SIL Division one campaign with a 3-1 win at AFC Kesggrave, while Tattingstone were 2-1 winners at Cockfield United.